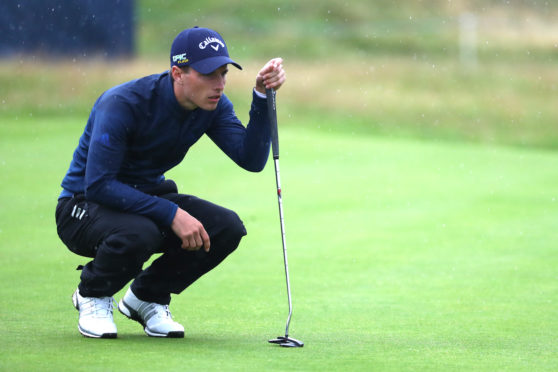 With a plethora of golf's top players teeing up at the Dunhill Links, few would have predicted world number 292 Matthew Jordan as the halfway leader but the 23-year-old's superb display should perhaps come as no surprise.
Jordan, who is playing on an invitation this week, has already tasted success at the Old Course after winning the St Andrews Links Trophy as an amateur two years ago.
The Englishman, who is fifth on the Challenge Tour rankings, rekindled his fondness for the iconic links with an eight-under 64 to move one stroke clear at the summit on 14 under.
After following up an eagle-2 at the third hole with five consecutive birdies in a front nine of 29 strokes, Jordan admitted allowing the thought of breaking 60 to briefly enter his mind.
He said: "It did once.
"I had my friends here and they were quick to tell me that they wanted the same on the back nine.
"It was in my head but I knew the rain was coming in.
"It could have been lower but I'm obviously going to take it.
"After that start, I wanted to keep the momentum going because I knew I would have chances.
"You have to try to go low because the scoring is good.
"You can't just make a few birdies and think you've done your job."
Jordan is pleased to have made the most of a late invite to play in the £4million event with a top prize of £642,000 on offer for the player who emerges victorious at the Old Course on Sunday.
He added: "I've done quite well recently.
"I had one more invite and gave myself the luxury of thinking I would try to play this event because of the field, the prize money and because it is links golf which I love.
"I asked my managers to try to sort it out because I really wanted to play it and I absolutely love this place.
"I'm trying to make the most of it."