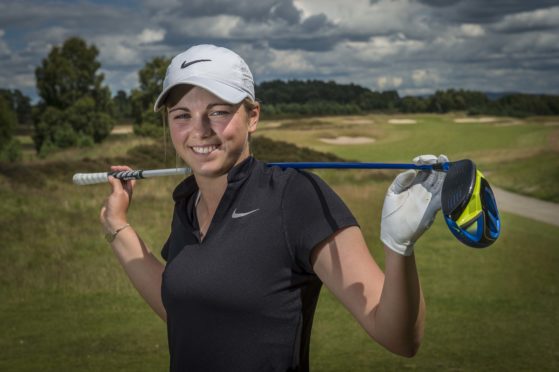 Nethy Bridge golfer Hannah McCook insists the pressure will be off when she makes her second tilt at Ladies European Tour qualifying school next month.
McCook will once again aim to secure a place on the main tour at the qualifying event in La Manga, where she will compete for one of five full LET cards up for grabs. A further 15 will be rewarded partial status on next year's tour.
The 26-year-old took part in last year's tour school event in Morocco, but although she reached the final stage of qualifying her 60th place finish was not enough to secure status.
McCook instead played on the LET Access Series, with her 49th place finish guaranteeing her a return to the same tour next year.
That gives McCook a firm platform for trying to go a step better at the two-week-long event in Spain, with the pre-qualifying stage starting on January 15.
She said: "It's a bit different going this year, knowing I have already got status for the Access Tour next year.
"To try and better that to get on to the main tour is obviously the goal.
"There is less pressure than last year, which is nice.
"Last year I was a bit apprehensive, I started pretty poorly but turned it around in stage one.
"I will probably always think of that when I'm there, knowing anything can happen.
"We will go and see what happens.
"Everything I'm doing just now is literally thinking about January."
McCook, who is a golf ambassador at Glenagles, competed in 17 LET Access Series events in her debut season as a professional, and reflected on an encouraging 12 months.
McCook added: "If I'd sat here a year ago and said I would be in the position I'm in now, I would have taken it. There are obviously things I could have done better, but it's my first year on the tour. It feels like going from primary school to secondary school.
"I've got a slightly better status than I had at the start of last season, which is what I was looking for.
"At the start I was making a cut, missing a cut, making a cut, missing a cut.
"I got into a bit of a cycle and realised I was in it, but I went through a good little patch in the middle of the summer where I got a couple of top 20s and top 25s.
"When I started the season, if I could have finished it with the same status or slightly better for going into tour school, without the mass amount of pressure, I would be happy – and I have done that.
"I know I will get all the events on the access tour next year, and maybe a couple on the main tour.
"That's just a start, I don't know what will happen at tour school or if I will get invited into something.
"You just never know in golf."
McCook has quickly become comfortable in her surroundings after stepping up from the amateur ranks.
She added: "Without sounding negative on other people, the standard is probably not quite as good as you might think.
"Standing at the range on the first few weeks, you realise we all hit it just as well – the professionals just don't make as many mistakes.
"That aspect of watching them has taught me not to do too much different."