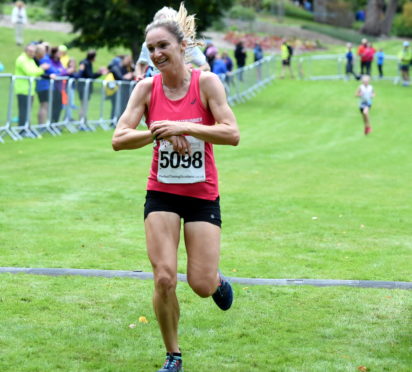 Meryl Cooper is determined to establish herself as one of Great Britain's best ultra distance trail runners in 2020.
More than a few people would argue that the Dubai-based Oldmeldrum athlete has already achieved that target since taking up ultra distance running two years ago.
But Cooper isn't the type of person to rest on her laurels and is keen to step up a notch in the year ahead.
She said: "I have been really happy with my second year racing ultra trail.
"The highlights include representing Great Britain at the ultra trail World Championships in June and then respectable performances at both of my 100K races.
"I was 13th at Courmayeur Champex Chamonix in August and sixth at UT Cape Town in November when racing against extremely competitive and experienced trail runners.
"I loved racing some shorter races in Scotland but sadly I didn't race any ultras.
"I did, however, enjoy four days of volunteering at one of the biggest trail race weekends – Skyline Scotland in beautiful Kinlochleven. I hope to race there in 2020.
"I really want to break through this year, taking steps towards being one of the best GB ultra trail runners at my preferred distance of 65-100km, and I want to continue to climb up the world rankings."
The Aberdeenshire woman is enjoying a sabbatical from her Dubai teaching post and wants to make the most of having plenty of time to train.
She said: "I am excited to really test myself in 2020 on the back of the experience I have gained and to also fully capitalise on the advantage of being a full-time athlete and having lots of time to recover each day.
"I want to race for Great Britain again in the next world championships and to perform much more at my potential than I did this year.
"I was really devastated after not having a great race in June when representing Great Britain over the 44K distance world ultra trail champs.
Cooper took a bad fall early on but battled bravely to finish 91st.
She added: "I learnt so much from this and the fact I finished this race despite the challenges.
"It was a similar story at the Cappadocia 64km in October when I was sick.
"The tough times have taught me a lot about myself and that it's so important to not give up as soon as things get hard."
Cooper has already started to map out her 2020 race programme which includes the Inverness half-marathon in March.