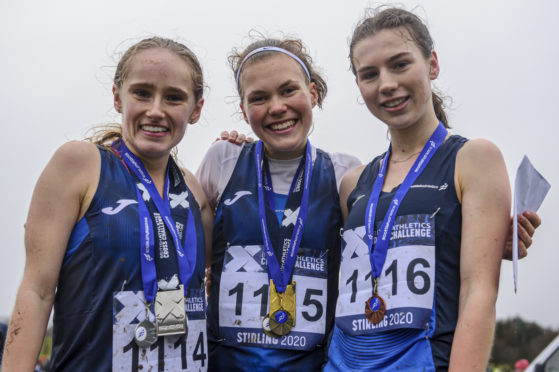 Inverness athlete Megan Keith glided over the strength-sapping mud at Stirling's King's Park to lead Scotland to a historic first under-20 age group team victory in the home countries cross country international meeting.
The 17-year-old Millburn Academy pupil completed the testing 7km course in 26min 14secs to finish 11secs ahead of her Scotland team-mate Cera Gemmell (Team East Lothian) with England's Olivia Mason third in 26:32. Scotland secured the team title when Eloise Walker (Edinburgh AC) took fourth spot in 27:23.
The result brought an end to England's 12-year domination of the competition and marked one of the highlights of a successful day during which the Scots pocketed seven sets of team gold medals out of 10 available in the various international competitions.
Keith said: "I've only just learned that about it being a historic win and that's a great feeling for all of us.
"I got out strong at the start and I felt it was a day for that. You were always thinking that it was important in team terms so it was great to have Cera and Eloise not far behind.
"The conditions were pretty awful and tough to run in but you just have to try and keep driving on if you can."
Dundee-based Welsh athlete Kris Jones scored a surprise win in the senior men's 8km in which Scottish Olympian Andy Butchart had to settle for fourth position.
Jones, winner of the 2018 Great Aberdeen half marathon, showed great power and determination to leave Butchart well behind as he ploughed through the mud to complete the 8km route in 25:33.
Central AC's Jamie Crowe, who plans to compete in this April's Run Balmoral races, took second position in 25:43 while England's Adam Hickey caught Butchart yards from the line to claim third spot by one second in 25:49. Scotland won the team title for only the second time in the 13-year history of the competition.
Sean Chalmers (Inverness Harriers) produced one of the most impressive performances of his career to take the Scottish inter district title when finishing sixth in 26:28 while mountain running international Robbie Simpson (Deeside), 28:38, and Andy Douglas, 28:45 (North Highland Harriers) were 11th and 12th respectively.
Chalmers said: "I am delighted with that because I was ill a few days ago. I was floored with the cold and didn't run for seven days. I did 20 mins on Thursday and 20 mins on Friday so to run so well in these conditions is very pleasing."
Strathpeffer's Hamish Hickey was third counter for the Scotland under-23 side which won the Celtic nations team title. The Stirling University student was fourth in his age group, 19th overall, in 27:00.