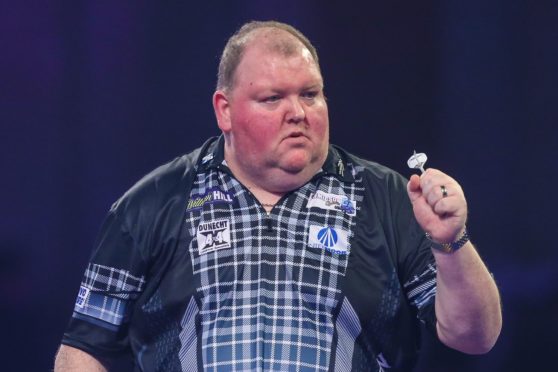 John Henderson insists it will be up to Nathan Aspinall to handle the pressure when they clash in the PDC's Premier League tomorrow night.
The Highlander takes on Aspinall on the opening night of the invitional event at P&J Live.
Henderson is taking part as one of nine challengers in the first nine weeks. He fulfilled a similar role in the Granite City 12 months ago and earned a 6-6 draw with Michael van Gerwen.
The Huntly thrower received vociferous backing from a home crowd of around 4000 at the old AECC – this year he is set to be backed by 8000 north-east darts fans
Henderson is intrigued to see how Aspinall handles the atmosphere on his debut as a full Premier League player.
He said: "Nathan will be going on the stage and he'll probably never have played in an atmosphere like it before.
"He's said to me since last year when I played in the Premier League that Aberdeen looked great and he's said 'how did you manage to play darts with that sort of noise?'
"I said it was hard but we got there and it will be harder this year because there will be more fans making more noise.
"I believe some of the crowd maybe don't know Nathan Aspinall as well as Michael van Gerwen so does that put more pressure on me? Maybe.
"But a lot of dart fans will know what a good player Nathan is and that it will still be hard for me.
"There will be pressure. Of the nine contenders that played in the Premier League last year the two that didn't play to the levels they're capable of was Nathan and Glen Durrant.
"And then they ended up having great years and getting into the Premier League on merit.
"So it will be interesting to see how Nathan handles the atmosphere this year, but knowing Nathan he'll handle it quite well.
"I think the crowd got me a draw last year against Michael van Gerwen because I just fed off it.
"That crowd was phenomenal last year and I didn't expect to get the chance to play in that sort of atmosphere again unless I went on and got into the Premier League.
"But I've been given this second opportunity as a challenger and it's in a new arena.
"There's going to be 3500 more fans than last year so it will be quite noisy and a fantastic night."
Aspinall is a player Henderson has got to know well in recent years.
The Stockport player has reached the semi-finals of the last two World Championships and in the last 12 months has claimed the UK Open and US Darts Masters titles.
As result Henderson believes those who are making him favourite against the world No 8 are underestimating Aspinall.
The 46-year-old added: "Nathan usually sits at the same table as me in the Pro Tour events.
"I've got to know Nathan quite well since he got his tour card.
"The semi-final of the World Championships last year was his big breakthrough.
"Then he went on to win the UK Open last year and the US Masters in the World Series in Las Vegas.
"So he had a good year and then he reached the World Championship semi-finals again.
"He's a young lad that's come through and it's great to see, he's an up and coming player who doesn't fear anyone.
"He's proven himself on the stage and it will be really hard game for me."