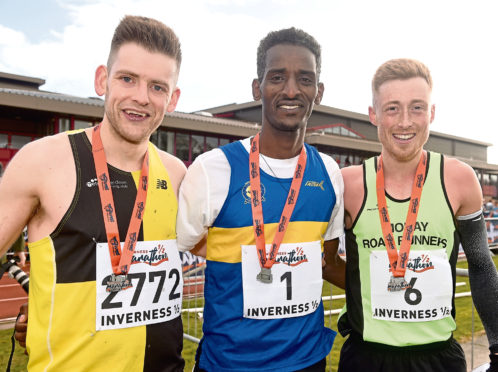 Eritrea's Weynay Ghebreselasie produced an impressive performance in windy conditions to win the Inverness half marathon.
But the Glasgow-based athlete was disappointed with his winning time.
The Shettleston Harriers club member, who also won here in 2017, took an early lead and was never seriously challenged as he made his way around the 13.1 mile course to reach the finishing line in 1:05:06 – 39 seconds outside the record set by Deeside's Robbie Simpson in 2018.
Ghebreselasie, who had recorded 1:04:19 in London the previous weekend, was hoping to run much quicker to give his confidence a boost ahead of next month's London Marathon.
He said: "I'm not very excited about my run today as I was hoping to run 63 or 64 minutes.
"I was training in Ethiopia recently and got very fit but after coming back to Britain I got injured.
"I tried to do my best today but it was too windy and I was on my own the whole way.
"I'll now go back to Ethiopia for a few weeks to continue training for the London Marathon and try to qualify for the Tokyo Olympics.
"That was my aim but I am still waiting for Great Britain citizenship which I applied for months ago."
Scotland international Kenny Wilson tried to stick with Ghebreselasie in the early stages but soon realised that was an over-ambitious strategy, and decided to focus on securing second position – which he achieved in 1:06:35.
He said: "I went with Weynay for the first mile, but it was too quick a pace so I settled down and concentrated on staying ahead of the rest of the pack.
"But I made it hard for myself as I was on my own for most of the way.
"I tried not to hurt too much running into the wind, then took advantage of the stretches when the wind was behind.
"At one point I thought about trying to make an effort to catch Weynay again, but he was definitely going much too fast for that.
"Overall, I'm happy with the result and my time, given the conditions.
"It's the second-quickest time I've done for a half marathon, so that's fine.
"Now I'm looking forward to the London Marathon."
Another Scotland international, Cameron Strachan (Metro Aberdeen), finished third in 1:06:50 with Dougie Selman (Corstorphine AC) fourth in 1:06:58.
Strachan said: "It's my first serious half marathon so I'm happy enough with my time and to finish third.
"After Weynay and Kenny pulled away I stayed in the chasing group which stayed together for about 10 miles after which it began to split up.
"I eventually got away from Dougie with about half a mile to go."
Strachan also led Metro Aberdeen to the men's team prize with backing from Will Mackay (fifth, 1:07:15) and Ben Ward (ninth, 1:11:37).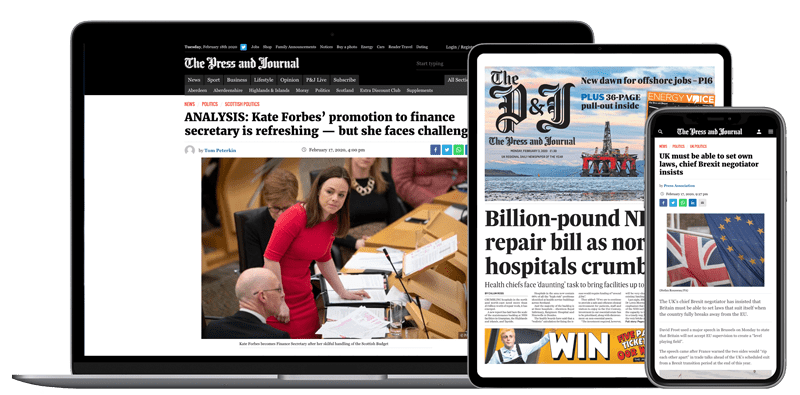 Help support quality local journalism … become a digital subscriber to The Press and Journal
For as little as £5.99 a month you can access all of our content, including Premium articles.
Subscribe