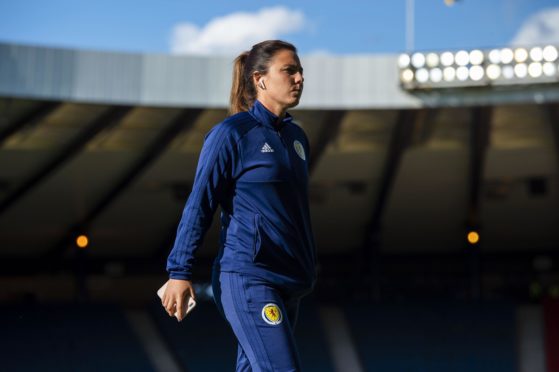 Scotland captain Rachel Corsie believes it was the right call to postpone the Olympics.
The Aberdonian had previously said she had hoped to be involved in the Great Britain team for Tokyo 2020 which will be managed by England boss Phil Neville.
The organisers of the Games have agreed to postpone the event for one year because of the coronavirus crisis and the Utah Royals defender says it is the correct decision.
Corsie, speaking on the Northern Goal podcast, said: "I think it was inevitable.
"Canada were the first team to speak out and the stance they took was really brave, bold and admirable.
"It is a huge event so it wasn't a decision that could be made quickly.
"A huge amount of work has to now go into how it does go ahead.
"I understood why that was a decision that wasn't made quickly but I'm glad it is the decision because there is no way it could have went ahead in a manner that would have kept everyone's lives in a safe environment.
"It would have put everyone at risk.
"From a competitive level, I don't think any of the athletes could have been close to their best.
"You want the Games to go ahead but you want the athletes to be able to perform and for it to be a showcase of the talent that is there."
Rachel Corsie explains how she went from the high of Scotland's Pinatar Cup success to isolation in the United States on Northern Goal:
Corsie is reaching the end of a 14-day period of self-isolation which she entered after returning to Utah after representing Scotland at the Pinatar Cup in Spain.
She said: "I have one day left of isolation but in the last few days everyone has been put into shut down so it doesn't look too good for the coming weeks.
"It is pretty similar here to what has been announced by Boris Johnson (in the UK) on Monday.
"That has pretty much been my life for the last 12 days and it looks like it is going to continue.
"The Pinatar Cup was really great. It was almost four months to the day since we had played a competitive game.
"A lot of us had been in an off-season period so that was really promising witht the three wins.
"The expectation was to come back to Utah and hit the ground running.Sadly we have all been stuck indoors.
"The day I landed into the United States two of the Utah Jazz players were announced as testing positive.
"NBA is huge in American sport and they are the trailblazers. They were the first to shut down and I think once they did that it was inevitable that all of the other sports would follow suit."