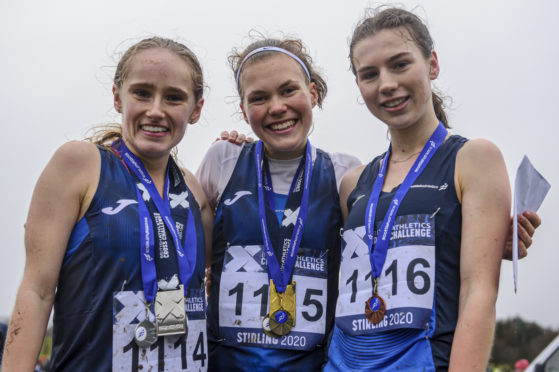 Great Britain junior international Megan Keith is not sure where or when she will resume her athletics and academic careers once the Covid-19 pandemic has passed.
The Inverness Harriers club member, who celebrates her 18th birthday later in the month, is one of Scotland's best young distance runners. She won the national under-20 cross country title at Falkirk in February and the UK Inter Counties title at Loughborough last month.
Earlier in the season she helped Great Britain win team gold at the European championships in Portugal.
Keith has enjoyed considerable success on the orienteering stage over the past 12 months, winning the 2019 European Junior Sprint title and being part of the gold medal-winning Great Britain relay team at the world championships.
The coronavirus crisis has put everyone's future plans on hold and Keith is no different.
She said: "We can still go out running, for now at least, so that's a good thing.
"I usually train with a big group which is fun, so it's quite different being on my own, but I'm just getting on with it.
"However, we have a Facebook group and our coach, Ross Cairns, has been setting some interesting challenges.
"We are doing a virtual relay. We have all been put into teams of three with different lengths of legs to do. Everyone does their own run then we upload the times which are added together to find out which team wins. It's things like that which keep the interest going."
Keith says she is adjusting to the change in lifestyle which has been imposed on everyone in recent weeks.
She added: "I've not so much to do as suddenly there's no school and no exams to prepare for, but I've been put in charge of cooking for the family, so that has kept me busy.
"As far as future running plans are concerned, that's up in the air as we have no idea when races will start again."
Keith's academic aims have also been put on hold for the time being.
She said: "I've still to find out what will happen about the school exams being cancelled and the grades we will get, but I would like to study sports science at university although I haven't decided yet where I'd like to go. I'm not sure how I'd feel about starting uni in September given all that's happening.
"I'm considering taking a gap year which would give me more time to decide. It would be good to have a break after six years of secondary school.
"I'd like to keep running and possibly travel but that depends on how things progress from here."