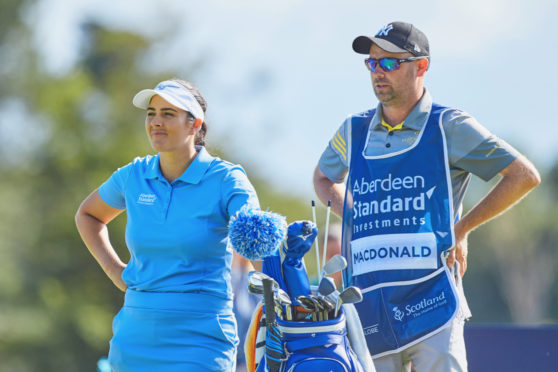 The sudden halt to the golf season has come at the wrong time for Kelsey MacDonald.
The Nairn golfer had enjoyed a promising start to 2020, which was topped off by a career-best tied fourth finish at the South African Women's Open in her most recent event last month.
MacDonald's recent form has put her firmly in contention for a Women's British Open debut at Royal Troon in August, however the major remains in doubt due to coronavirus.
MacDonald is hopeful the British Open does not follow the men's Open Championship in being called off.
MacDonald said: "I haven't played in a British Open yet but I'm sitting 10th in the order of merit at the moment and that gives me a good chance to play this year.
"I have not heard anything. I have been in touch with our players' council representative.
"We just got told about Morocco and Sweden being off, but we have not heard anything about the British Open.
"It would be a blow if it was postponed or cancelled, but it would be quite difficult for them to have the women's tournament and not the men's.
"I don't know how that would go down. Each day things are changing, so you never know."
MacDonald is frustrated she has been unable to continue her momentum following her performance in South Africa, with the next scheduled LET event not unil the Jabra Ladies Open in France which is due to start on June 18.
The 29-year-old added: "I think everyone, when they are on form, wants to keep going. I'm a little disappointed the season has come to a pause.
"My first event in Bonville was a really strong field. It had loads of LPGA players who came across because their season had been postponed in Asia.
"For the first event in it was a tough gig. I was really happy with finishing tied 32nd in Bonville to get off to a good start in an incredible field.
"South Africa was brilliant, obviously getting tied fourth was my best performance to date. I was really happy with that.
"It's just a bit gutting things have panned out this way, and it's just a bit of a waiting game at the moment."
MacDonald feels she is well mentally prepared for the lengthy shutdown, having previously had an illness-enforced absence from golf towards the end of 2016.
Aberdeen Standard Investments ambassador MacDonald aims to put herself in the best possible position for the eventual return of golf, adding: "A couple of years ago I was quite ill and was in hospital for four or five weeks.
"I almost had to come back and start again so I think I'm probably a lot stronger mentally in comparison to a lot of girls, because I've been in that position where I've had to graft to come back.
"To me it's not a worry at the moment. I just have to keep what I'm doing and control what I can moving forward.
"I think everyone is going to have the complete golf bug. Everyone is going to have different mindsets and appreciate things more, they will want to travel more and compete and do well.
"There will be a lot of positives from it. Fitness wise, I can do a lot without having to think that it could have an impact on my golf the next day.
"I can have fitness goals that will put me in good stead at the end of the season or if we have to restart next year."