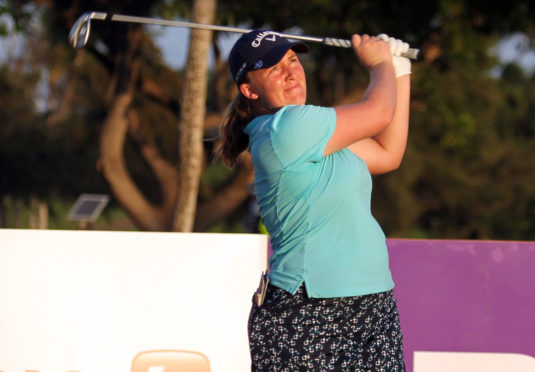 Aberdeen's Gemma Dryburgh admits she is missing football almost as much as golf.
The 26-year-old, an avid supporter of Aberdeen and Manchester United, made the choice to pursue a career in golf rather than football as a teenager.
But Dryburgh, who finished fourth in the Australian Ladies Classic Bonville in February, is missing watching her two favourite teams in action.
She said: "It's tough, especially at the weekends, because that's when you look forward to watching a match and we were coming to the end of the season, so I was looking forward to seeing what would happen and where we'd finish.
"But it's all gone now and I don't know if it will start up again or if they'll be able to finish the season, but we'll see."
Dryburgh is using a football net in her garden help her practice during the coronavirus lockdown.
She said: "I saw Michele Thomson's video where she had a duvet on her washing line. That gave us the idea to put a duvet in front of the net and it seems to be working so far.
"I've also set up what I'm calling the Covid-19 chipping challenge.
"From when I used to play football, I've got some high cones, a chipping net and a circle that was used for keepy-uppies which I'm using as a target and then two other smaller cones.
"Then some croquet pegs. So I've got 10 targets and I've got to hit three balls to each. Then the last cone is worth double but you have to add up how many points you get throughout. My dad has been challenging me on that."
Dryburgh was a keen footballer growing up and admitted it was a difficult decision to focus purely on golf.
She said: "I actually wanted to do both football and golf, but they said I had to pick one. I really miss playing but it's difficult with travelling and you don't want to get injured. I still have a kick-about in the garden though."
Dryburgh says her main goal when the season resumes is to play in the majors.
She added: "I've only played in one major last year, the KPMG Women's PGA Championship. Maybe I'll have a better chance to qualify for them now.
"This year, I'd like to be able to play in the AIG Women's British Open. My position on the Race to Costa Del Sol is positive, so hopefully that gets me
in.
"I've never played in the British Open before and this year it's in Scotland (at Royal Troon), so it would be even more special.
"The toughest thing is not knowing when we're going to start again. I miss seeing everyone on tour, all the friends you make and the LET staff as well. It's tough.
"Hopefully we'll be back on the golf course soon."