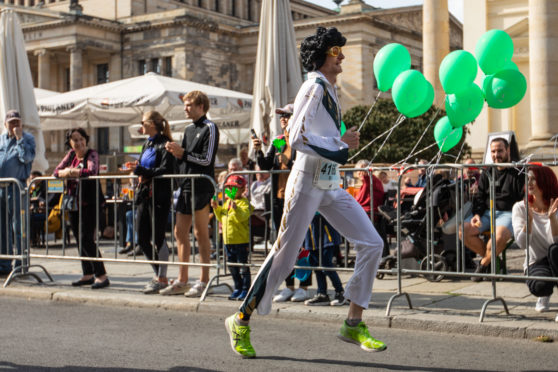 North athlete Nikki Johnstone will have to wait a little longer before making his Scotland international debut.
The 36-year-old, who has lived in Dusseldorf for the past 13 years where he is employed as a PE teacher at the ISR International School on the Rhine, was picked to represent his native country in the Anglo Celtic Plate 100km.
He was selected after producing a flurry of fine overseas marathon performances over the previous couple of years.
However, the 100km race, due to have been held at Boddington in Gloucestershire this month, was postponed because of the Covid-19 pandemic.
It has been rescheduled for September 26, but there remains uncertainty over whether or not it will go ahead on that date.
Johnstone is currently staying with his parents in Forres after his job in Germany was furloughed and travel restrictions were put in place.
He was extremely excited about wearing a Scotland vest for the first time but believes the delay, although frustrating, might work to his advantage.
He said: "To be honest I've had a bit of a stop-start year so if the 100km had gone ahead on its scheduled date, I probably wouldn't have been in as good shape as I'd hoped to be.
"So I was secretly thinking if it was postponed until later it would give me more time to get into the form I was showing last year."
Johnstone has not enjoyed the best of luck in 2020 but admits some of the problems have been of his own making.
He said: "I had a hernia operation at the end of January which was successful but, typical runner that I am, I probably started training again too quickly.
"I was buzzing to get back into it, but developed an Achilles problem which took a long time to clear up.
"I came back to Scotland for a family visit at the beginning of March and everything was fine. I returned to Germany but shortly afterwards the coronavirus crisis kicked off and my school closed.
"I managed to get one of the last flights back to Scotland.
"But with so much time on my hands and with the prospect of the 100km still being held in May at that time, I overdid the training and picked up a glute problem. It took another four weeks to clear up, but during that time I was able to do a lot of biking. That kept me fit and now I'm back running again.
"I am so excited about pulling on a Scotland shirt and I hope it happens in October. But if not, it will happen at some time and I'll be ready when it does. Pulling on a Scotland shirt is at the forefront of my mind."
Nikki All Shook Up his Elvis record is still standing
Scotland's Nikki Johnstone perhaps did not get the credit he deserved when he matched Kenya's Eliud Kipchoge by setting a world record performance at the 2018 Berlin Marathon.
The African athlete set pulses racing with a remarkable winning time of 2hr 1min 39secs over the fast and flat German course.
That remains the official fastest time ever recorded in a race, although Kipchoge has since dipped under two hours with his amazing 1:59:40 in a staged run in Vienna last year.
But Johnstone also got in on the act at Berlin when clocking a more modest 2:37:04 – a performance that was notable because it was recognised by the Guinness Book of Records as the fastest marathon time clocked by a runner dressed as Elvis Presley.
The requirements for this record are precise. Runners must wear a wig with a typical Elvis quiff, pilot's glasses, sideburns and a white Elvis one-piece.
The Nairn athlete, who is based in Dusseldorf, sliced 60 seconds off the previous best set by Michael Wardian in Las Vegas four years earlier.
Johnstone's win also highlighted an important environmental issue as his Elvis running suit was made from recycled PET bottles.
He said: "It was part of the launch of a new running brand and they wanted a runner who was prepared to run as Elvis.
"I thought it was a cool idea so I was up for it. The crowds really took to it as well, so it was all good fun.
"The guys who previously held the record have been threatening to break my mark so, if they are successful, I may be tempted into doing it again. I'm up for anything like that."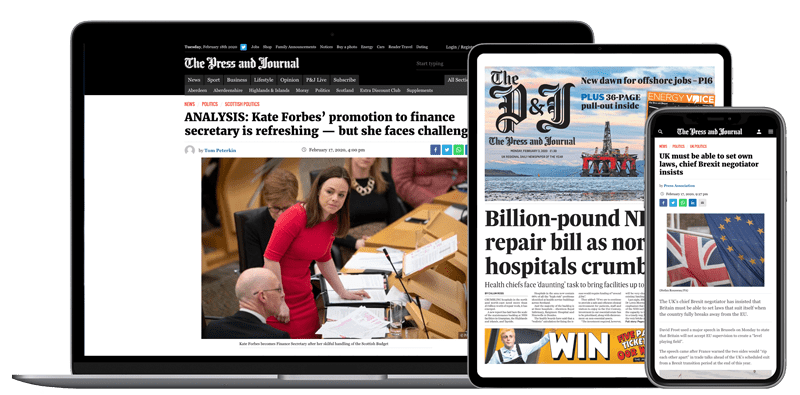 Help support quality local journalism … become a digital subscriber to The Press and Journal
For as little as £5.99 a month you can access all of our content, including Premium articles.
Subscribe