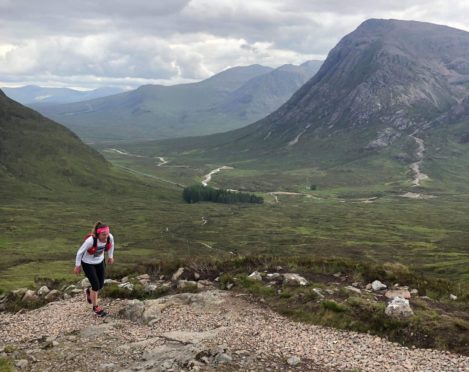 One year ago this month Siobhan Killingbeck made the Scottish ultra distance running world sit up and take notice by producing a stunning performance to win the women's division of the West Highland Way race.
The Aberdeen athlete covered the challenging 95-mile route between Milngavie and Fort William, which includes 14,760ft of climbing, in 17:41:09.
It's the third quickest time recorded by a woman in the 35-year history of the event, and, on the day, only five men in the capacity field of 265 ran faster.
This year's race has been cancelled because of the coronavirus pandemic, but Killingbeck will still be involved, albeit in a much less physically demanding role, as she is to contribute to a live podcast to celebrate the history of the run.
Killingbeck is a geophysicist and glaciologist. She recently completed her PhD and is in the early stages of a research project investigating a glacial lake in the Canadian Arctic.
She said: "Even if the WHW race had been on, I wasn't planning to run as I expected to be in Canada at the time.
"I was meant to leave Scotland on the very day lockdown started, so I couldn't go.
"I've been staying with my husband James in Gairloch where my family has a house. We were here when lockdown began, so stayed where we were.
"I was doing a lot of running at the beginning of the year. But with all events being cancelled, I've been much more relaxed about training.
"I completed my PhD work at the end of February and I was fairly tired, so I needed a break in any case.
"Since then I've been running purely for enjoyment, without having to think about any races. There are so many great trails and quiet roads on our doorstep.
"One day I went out and ran a full marathon on a series of new routes I'd never been on before. That was so cool."
West Highland Way race organisers are putting on a virtual version of the race, but -while she fully supports the concept – Killingbeck isn't tempted to take part.
She said: "It's a really great idea and gives runners who were maybe preparing for the race an alternative goal.
"If all of this had happened last year when I was getting ready for the WHW, I might have done the virtual race. But I'm not really ready to do anything like that at the moment."
She does, however, have a few personal running goals for later in the year in the Gairloch area before eventually heading for Canada.
She said: "One target we have is to run a loop of the Torridon Giants.
"It's a run over Beinn Allign, Liathach, Beinn Eighe and Beinn Dearg and should take anything from 12-14 hours."
Incredible records in gruelling race
When Paul Giblin won the 95-mile West Highland Way race in 14hrs 14min 44sec in 2015, most experienced followers of the ultra trail running scene believed it was a mark that would last for a very long time.
But just two years later, Aberdeen's Rob Sinclair blew the record out of the water, taking the title with a remarkable time of 13:41:08, which remains the standard to beat.
It was widely considered to be one of the finest ultra distance performances on Scottish soil. Sinclair averaged well under nine mins per mile for a course which is often rough underfoot and includes a punishing 14,760ft of climbing.
In addition, with the race starting at 1am, the first few hours are run in darkness with navigation being made by the use of a headtorch, which requires total concentration in the remote terrain.
Sinclair went on to win the Triple Crown that summer, taking top spot in the other two classic ultras held on the West Highland Way.
He completed the Highland Fling 53 mile race, from Milngavie to Tyndrum, in a record 6:41:15 and set yet another record with his victory in the Devil o the Highlands 42 mile race between Tyndrum and Fort William in 5:12:21.
There's also a strong north-east association with the West Highland Way women's race. Edinburgh-based Aberdonian Lucy Colquhoun holds the women's record of 17:16:20, set in 2007. It's a time bettered by only 34 men in the 35-year history of the race.
No-one has come within 20 minutes of that performance since.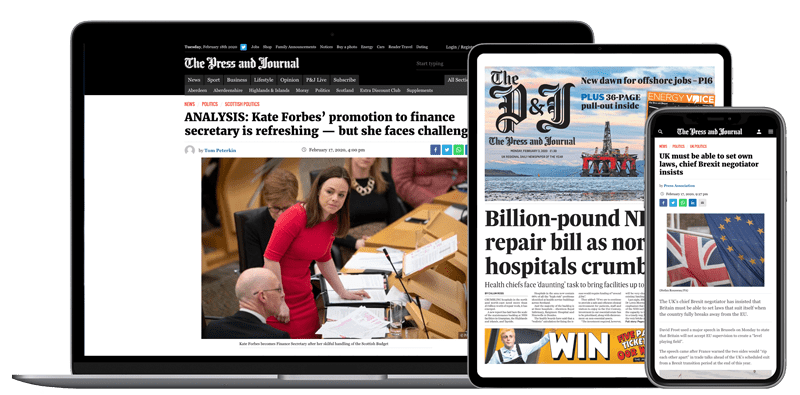 Help support quality local journalism … become a digital subscriber to The Press and Journal
For as little as £5.99 a month you can access all of our content, including Premium articles.
Subscribe