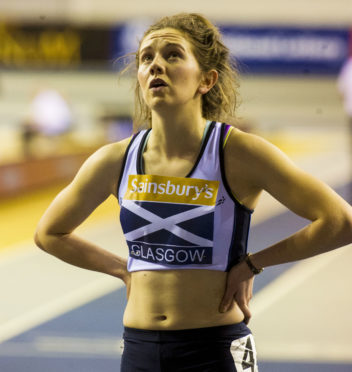 The Scotland international sprinter Kathryn Christie was eagerly looking forward to her first full track season for five years until the coronavirus pandemic brought the campaign to a halt before anyone even had time to dust down their starting blocks.
The Banchory Stonehaven AC 100m and 200m specialist has shown remarkable determination and patience in battling back to fitness after surgery on both feet in 2016.
It has been a slow and often uncomfortable journey for the 25-year-old Finzean athlete, who, as a teenager, won the women's 100m and 200m double at the Scottish senior championships in 2012 and 2014.
She narrowly missed selection for the 2014 Glasgow Commonwealth Games and in 2015 her hopes of selection for the European under-23 championships were ended by problems with the navicular bone in both feet.
The following year she travelled to Edinburgh to undergo surgery to correct the problem, but it has taken until now for her to believe she is finally on the right track.
She said: "I really don't know where the time has gone. It has taken a lot longer to recover than I expected, but I think that's because both my feet were operated on. They got very weak and I was suffering a lot.
"When I started training they just seemed to react badly to some sessions, so I've had to learn not to overload things and not do too much. I have to try to get the balance right.
"I think I'm always going to have some niggles and the key will be to manage things as well as possible. I need to listen to my body and take a rest when I need to."
Christie joined coach Eddie McKenna and a group of talented Aberdeen athletes, led by Great Britain international Zoey Clark, on a training trip to South Africa at the beginning of the year.
She said: "That was great. I really enjoyed it and they are a nice group to be part of. When I came back from that I felt as though I was beginning to cope with it all and I was looking forward to competing.
"So it's a bit disappointing that everything has been cancelled so far. I wouldn't have placed any expectations on myself this summer, but I was keen to get some competitions. It would have been a stepping stone for me.
"I guess one way of looking at it is that I've waited five years, so a little bit longer isn't such a problem.
"I still really love running and I enjoy training. This is just another delay but I'm still motivated to keep working at it."
Christie lifted prestigious old trophy
When Kathyrn Christie won the Scottish senior women's 100m title in 2012, she was presented with the Dalziel Trophy, one of the oldest awards in the history of women's athletics in this country.
The Banchory Stonehaven AC sprinter, who was only 17 at the time, also won the 200m title at Glasgow's Scotstoun stadium that day, and she repeated the double at Kilmarnock two years later.
Christie is one of only three north-east athletes to have held the Dalziel Trophy, the first winner being Aberdeen University student Laura Greig, who won the 100 yards at the inaugural Scottish women's championships at Ibrox Stadium in June 1931.
Greig also completed a double on the Glasgow Rangers turf that wet evening, winning the 100 yards hurdles in a race dominated by Aberdeen University athletes, with Lilias Mackenzie and Alice Dugan occupying the remaining podium positions.
The previous year Greig set a Scottish women's 100 yards record of 11.6sec when competing in the inter university match on grass at Kings College, Aberdeen.
She was the first Scot to dip under 12sec, a time which was only 0.3sec slower than the British record.
By comparison, Christie's best 100m time of 11.74sec equates to 10.74sec for 100 yards, but this was achieved on an all-weather track.
The only other north-east Dalziel Trophy winner was Aberdeen AAC's Alice Robertson, who clocked 11.4 to win the 100 yards at the 1956 championships held on the cinder track at New Meadowbank, Edinburgh.
Robertson was also a double champion, winning the 220 yards in 26.2.