Inverness squash player Greg Lobban is determined to pick up from where he left off when the PSA world tour eventually resumes.
The Professional Squash Association confirmed today the suspension of all events will be extended until August 16, with the season having been in shutdown since March due to coronavirus.
That halted Lobban's momentum, having jumped to a career-high 22nd in the world rankings following his victory over former world number one Karim Abdel Gawad at the Canary Wharf Classic.
Lobban is now waiting patiently for the restart, and he said: "I had a good result in January by beating the world number five in Edinburgh, and then I beat the world number four in London at my last tournament before the lockdown happened.
"I felt like I was carrying a bit of momentum. My ranking jump in March took me to 22 in the world, which is my highest yet.
"I'm definitely building confidence so for that it's somewhat frustrating.
"But I feel like it would be pretty selfish to think about what it means for me at this stage – there are so much bigger things happening in the world.
"It's a bit frustrating it has come at this time, but you never know what's around the corner.
"I'm delighted with my new world ranking, and I'll be happy when it does get back to normal.
"For now I think the most important thing is that I'm healthy, and my family are good."
The victory over Egyptian Gawad was a particularly notable one for Lobban, who was eliminated in the subsequent quarter-final against current world number one Mohamed El Shorbagy.
The 27-year-old added: "It was a huge result. It was my third top 10 win. It's always going to be huge, but it was the first time I've done it on a big stage, on squash TV and in front of a big crowd.
"It was basically on home soil with it being in the UK, so there were a lot of people I knew and recognised there. Gawad has been one of the top players for a number of years. He has been world champion and world number one.
"He has definitely won everything there is to win in the game, so to beat somebody like that gives you huge confidence.Until it happens you don't necessarily believe it's going to happen.
"Even if you have good self-belief it's hard to really believe you can beat someone like that until you have done it.
"It's something I have worked really hard for and it all came together on the day – it's extremely rewarding more than anything to get that result."
Following the latest suspension of the season, PSA tour director Hannah Ridgard-Mason said: "There are a number of uncertainties surrounding international travel, social distancing guidelines and potential quarantine measures for players and staff travelling internationally, which means that resuming the tour in the next six to eight weeks isn't feasible."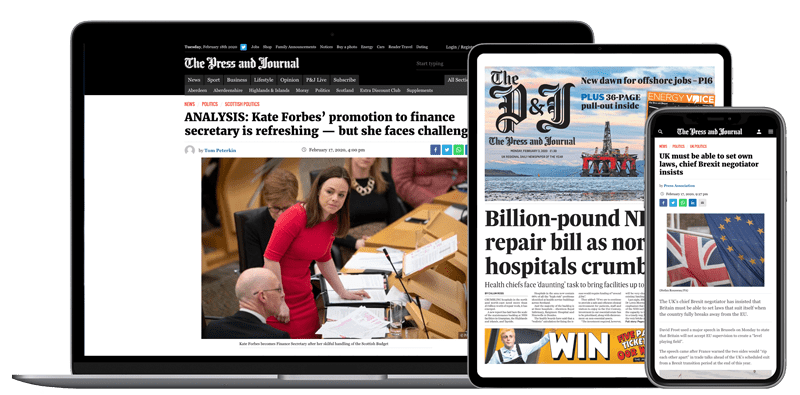 Help support quality local journalism … become a digital subscriber to The Press and Journal
For as little as £5.99 a month you can access all of our content, including Premium articles.
Subscribe