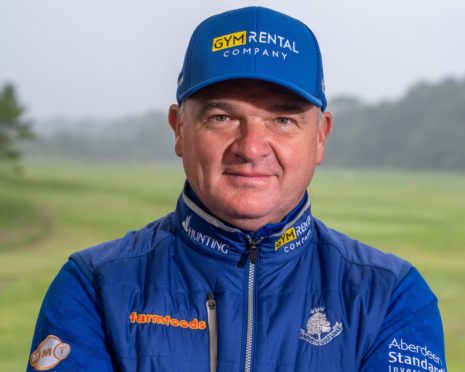 Paul Lawrie hopes his new tour series can fill the void for Scottish professional golfers whose seasons have been decimated by the coronavirus.
The former Aberdeen champion yesterday launched the Tartan Pro Tour, a Scottish-based tour which will initially comprise of six events and will be contested in August and September.
With a prize fund of a minimum of £18,000 on offer and a first prize of between £3,500 and £4,000 per event Lawrie hopes the new series, which will be open to men and women, will prove a valuable addition to the Scottish golf scene.
He said: "When the opportunity came up with the EuroPro Tour cancelling their whole season I saw it as an opportunity to get something going in Scotland.
"My oldest son Craig has a EuroPro exemption. He's been there for the last five years but as soon as they cancelled their season that was him with nowhere to play.
"There is nowhere for guys like Craig. There's 25-30 Scots on the EuroPro alone so there are mega-excited. Everyone will get a real buzz out of these six events.
"Guys with nowhere to go, nowhere to play until next March – that's a long time. It's a lifeline for a pile of them – male and female – as there is very little for the girls too at the moment.
"There are 15 full-time Scottish ladies so they are all welcome to play. If you are a full-time player you can play. We want a nice mix."
The Aberdonian knows his new venture is a risky one but he believes the Tartan Pro Tour can run alongside other tours rather than be viewed as a rival.
He said: "I don't see it as a gamble. I've never been scared to try things, be the first to do something or have a go. I never have a problem with any golfer who wants to turn pro and have a go. If you work hard you can make it work.
"The foundation will always be the biggest thing we ever achieve but this is up there. It's important we keep the sponsors rolling in and the venues of a high standard.
"I spoke to (European Tour chief executive) Keith Pelley and he was very supportive as he is with a lot of the stuff we've done. He said he would speak to Jamie Hodges, who runs the Challenge Tour, and we have a guarantee of some invites for our order of merit winner.
"For a new tour setting up it is unbelievable to get some invites to the Challenge Tour.
"I've been thinking about it for a while but never really sat down and said let's do it until the EuroPro called off the season. There has never been a better time as this gives us a clean slate. Every player who could play on the EuroPro tour will play our events.
"It's a great opportunity to let people see what we are, the money we'll play for and next year when the EuroPro events are out we won't clash with them.
"We're not setting up to go against the PGA, the EuroPro or anybody. We want PGA members to play and it makes no sense for anyone to compete against another tour."
TARTAN PRO TOUR SCHEDULE 2020
The Carnoustie Challenge – August 5-6 (Carnoustie Championship Course)
Paul Lawrie Golf Centre Scottish Par 3 Championship presented by Farmfoods – August 8-9 (PLGC Devenick Course)
Royal Dornoch Masters presented by Gym Rental Company – September 7-8 (Championship Course)
The Pollok Open presented by Blue Group – September 10-11 (Pollok Golf Club)
St Andrews Classic presented by Cloudcube – September 15-16 (Jubilee & New Courses)
Rowallan Castle Championship – September 23-24