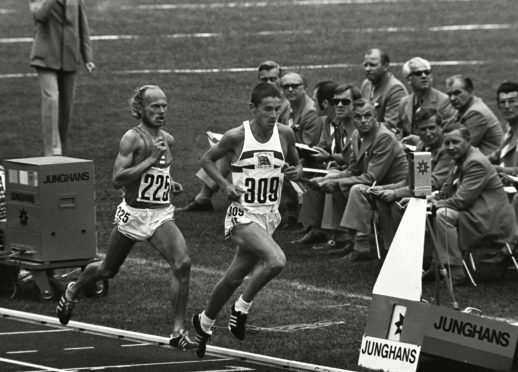 Ian Stewart vividly recalls the momentous occasion when he sent a nation into raptures by winning one of the most iconic races in Scottish athletics history.
On a rain-sodden track at Edinburgh's Meadowbank Stadium 50 years ago this month, it was the final day of the 1970 Commonwealth Games and the exuberant home crowd was eager to celebrate more success.
Over the previous week they had watched Scotland's top athletes pocket a healthy haul of three gold, one silver and two bronze medals from the track-and-field programme.
Stewart and his team-mate Ian McCafferty did not let them down. The blue-vested warriors showed no fear as they ripped apart a high-class international field, ultimately battling against each other as they sprinted down the finishing straight to secure a famous 1-2.
Stewart won in a European record time of 13:22.8 with his compatriot just 0.49s behind. Kenya's Olympic 1,500m champion Kip Keino was third while Australia's world record holder Ron Clarke, beaten in the 10,000m by another Scot, Lachie Stewart (no relation), five days earlier, had to settle for fifth.
The former Aberdeen AAC runner, now 71, describes the drama as clearly as if it was yesterday.
He said: "I went into that race with the attitude that whatever happened, win, lose or draw, I'd make sure the rest of them knew they'd been in one hell of a race.
"I just put my head down with 500m to go, kept working away and never looked back. You can usually hear if someone is close, but the noise from the crowd was so deafening I had no idea what was happening behind me."
He acknowledges it was probably the best race of his career but it was by no means the only highlight.
He said: "I was very young, only 21, and the previous year I'd won the European 5,000m title in Athens and was also European indoor 3,000m champion.
"In 1975 I regained the European indoor 3,000m title at Katowice, Poland, one week before winning world cross country gold in the searing heat of Morocco. No Scot, in fact no Briton, has won the world cross since."
However, the biggest disappointment of Stewart's career came at the Munich Olympics in 1972 when he finished third in the 5,000m behind Finland's Lasse Viren and Tunisia's Mohamed Gammoudi. Just 1.2s separated the three medallists.
He said: "It was awful, probably the worst final I ever ran. I was in great shape, but I messed it up. It wasn't anyone's fault other than my own. If I'd run the way I did at Edinburgh I would have won.
"It might sound bad to be disappointed with Olympic bronze, but it all depends on your expectations."
Agony and ecstasy for the Stewart family
While Ian Stewart enjoyed the glory of winning the 5,000m at the 1970 Edinburgh Commonwealth Games, his brother Peter suffered the agony of finishing fourth in the 1,500m.
But there was little sibling sympathy from Stewart, who was angry rather than disappointed with the outcome.
He said: "Pete was pipped on the line for bronze by Brendan (Foster). I was furious with him. He was capable of so much better. At least he went on to win the European indoor 3,000m title the following year."
Stewart's girlfriend at the time, Rosemary Stirling, also struck gold in 1970, winning the women's 800m.
Rosemary Payne won the discus, while Scotland's fourth track-and-field gold came from Shettleston's Lachie Stewart, who won a thrilling 10,000m.
It was a wonderful Games for the host nation. Jim Alder, took silver behind England's Ron Hill in the marathon. Hill's time that day, 2:09:28, remains the fastest recorded on Scottish soil.
Scotland's haul was topped off by Moira Walls in the high jump and Bill Sutherland in the 20k walk, both striking bronze.
Another member of the Stewart family, younger sister Mary, represented Scotland at the 1974 Christchurch Commonwealth Games, finishing fourth in the 1,500m. She switched allegiance to England after hearing of criticism by an official about Anglo-Scots competing for Scotland and went on to win 1,500m gold at the 1978 Commonwealth Games in Edmonton.
Stewart said: "The comments made it clear we weren't wanted but Mary took it harder than I did."
Running for Aberdeen AAC soon after medalling at the Olympics
Just two months after picking up a bronze medal in the 5,000m at the Munich Olympic Games, Ian Stewart turned out for Aberdeen AAC in the eight-stage Edinburgh to Glasgow road relay.
He set a course record time for the six-mile second-stage leg, knocking 68s off the previous mark set by his Aberdeen team-mate Alastair Wood four years earlier, while his club eventually finished in second position.
Stewart, who now lives in the tiny Worcestershire village of Upper Bentley, was born and raised in Birmingham although his father John came from Musselburgh.
He and older brother Peter chose to run for Scotland.
Stewart said: "We were members of Birchfield Harriers but, in the late 1960s, decided we wanted to compete for Scotland and thought it would be appropriate to join a Scottish club.
"We chose Aberdeen AAC on the recommendation of my brother-in-law Tom McCook, who came from Inverness but had been a member of Aberdeen at one point.
"I didn't want to be with one of the Edinburgh or Glasgow clubs in any case and Aberdeen seemed the right choice as it was predominantly a distance runners club.
"Alastair Wood was one of their top guys and I really liked him.
"I remember that 1972 race as I was very fit at the time and was pleased with the record.
"It's just disappointing we weren't able to win. My brother was unable to run that day and I reckon if he'd been in the team we would have won it comfortably."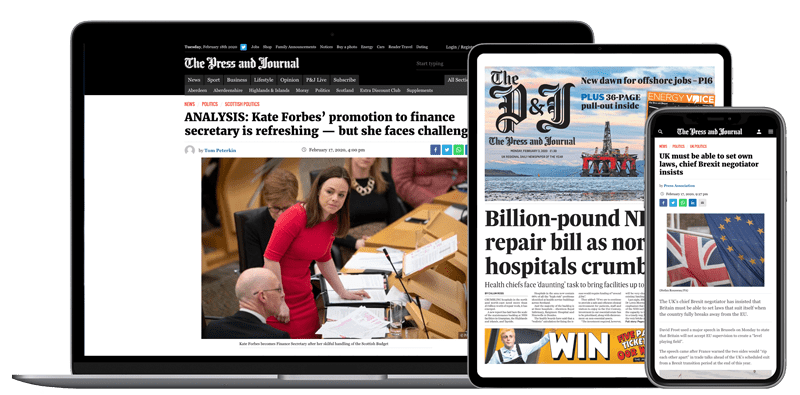 Help support quality local journalism … become a digital subscriber to The Press and Journal
For as little as £5.99 a month you can access all of our content, including Premium articles.
Subscribe