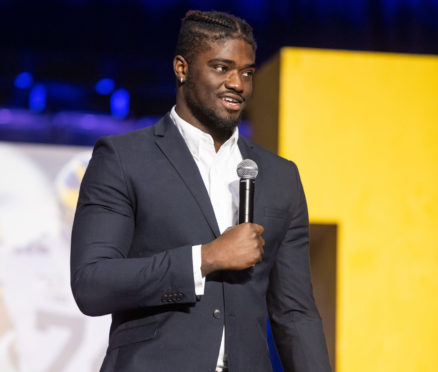 American football hopeful David Ojabo admits being stranded at home in Westhill – and away from his University of Michigan team-mates – is "a blessing and a curse".
Ojabo, 20, should be back in voluntary training with the all-conquering Wolverines ahead of the new season, but a trip over the Atlantic to his family home in the north-east after the university was shut-down at the height of the Covid-19 crisis in mid-March has now stretched to three months.
A bar on international travel to the United States due to the coronavirus crisis has left the defensive lineman uncertain of when he will be back in Ann Arbor.
Ojabo, who had been set to begin pre-season proper on July 24, said: "I came back to my family – I wasn't going to stay in the US, because it (the Covid-19 situation) was crazy.
"I thought 'I'll come back, be in Scotland, because I don't come back often', but one month, turned to two, turned to three.
"At the end of the day it's a blessing and a curse. I can't say 'being away from my team is the worst thing in the world', but I'm in the US to get down to business, for work, school.
"Just sitting here at home while my team-mates are working out is weird."
Ojabo has been able to join his fellow Wolverines in workouts on Zoom at 8pm UK time, keeping in shape "by any means possible", with his coaches adapting his fitness programme to the weights he has available in Westhill.
Nevertheless, the player – who one day hopes to reach the professional ranks of the National Football League (NFL) – still feels frustration, but understands the need for a safety-first approach.
He added: "As disappointed as I am, my safety and my families safety is the priority.
"But I feel bad. I love to work with my team-mates, compete with my team-mates, but I can't do that."
Current circumstances are a speed-bump in what has so far been an incredible rise from total American football novice to NCAA Division 1 college level for Ojabo.
He moved to Aberdeenshire from Port Harcourt, Nigeria, at the age of eight, attending the International School.
A versatile athlete, he won a place at Blair Academy in New Jersey to finish high school and play basketball.
However, the school's gridiron coaches noticed his combination of size and speed – and potential to swap sports – and he hasn't looked back.
After just seven matches for Blair, Ojabo had been offered 35 college scholarships, before settling on Michigan, with the team playing in the second-biggest sports stadium in the world and led by head coach Jim Harbaugh.
Having spent his first year at the university deepening his knowledge of the sport under Harbaugh and defensive line coach Shaun Nua and watching senior players earn their way to the professional ranks, Ojabo said he feels "ready" for minutes in what will be a reduced "Big Ten" season.
Ojabo said: "This was the best year of my life. I really went through it.
"A lot of people who don't get to play will take it one of two ways, either 'I deserve to play' or 'this was a good learning experience'.
"Honestly, I'm so thankful to get to learn. This game – a lot of people see meatheads just running into each others – but the intricacies are so crazy that I'm still figuring it out.
"I'm starting to figure it out now and really investing in it. It's a job. If you want to be great at it and be a pro, you need to invest every day into your craft.
"Not playing has been the best experience, training against starters.
"Our whole offensive line got drafted, so I've been playing against NFL-level players as a guy who just started playing the game two-and-a-half years ago.
"I wouldn't ask for it any other way."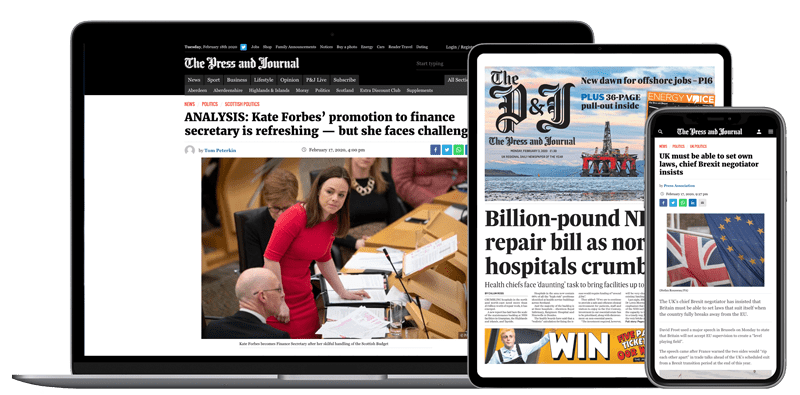 Help support quality local journalism … become a digital subscriber to The Press and Journal
For as little as £5.99 a month you can access all of our content, including Premium articles.
Subscribe