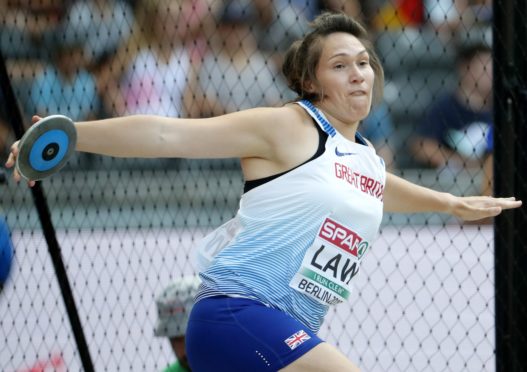 A slight technical adjustment has helped discus specialist Kirsty Law regain her confidence and the Inverness Harriers club member is now ready to step up a gear in her pursuit of Olympic selection.
The Loughborough-based athlete has enjoyed mixed fortunes since the track-and-field season's tentative emergence from lockdown but believes she has now turned the corner.
A disappointing trip to Germany last month left Law in despair as she struggled to get much beyond 53 metres, well short of her personal best of 57.79.
But the 12-time Scottish champion and Great Britain international bounced back to form with a season's best of 57.24 at Stretford last weekend and hopes to build on that in the Loughborough invitational meeting on Sunday.
Law said: "I figured out something in training which has really helped me and because of that I'm now convinced I can throw big.
"It doesn't seem like much, but I adjusted my technique and found a way of getting farther across the circle. And it's exactly what I needed.
"As a result, I've a new found confidence and that's been showing in training this week when I've thrown 57.35 and 57.85, both in calm conditions.
"Over the past few years I've been throwing well in training, but not in competition. I didn't really know what I was trying to do. But now I understand more clearly what I'm doing and because of that I know I can throw farther in competition."
Law aims to take full advantage of her positive frame of mind to fit in as many competitive opportunities as possible during the remainder of the curtailed summer season.
She said: "I want to do as much as I can starting this weekend in Loughborough. Then, on Tuesday, I'm due to compete on Jersey.
"After that I've a few choices. I could stay on Jersey for another match next weekend or I could come home as there are meetings at Trafford and Nuneaton. We are keeping an eye on the weather to see where conditions might turn out to be best."
Law then plans to bring the domestic season to a close by attempting to retain her British title at Manchester Sports City at the beginning of September.
The Highland athlete knows, however, that no matter how well she does over the coming few weeks, she'll still have work to do to make the 2021 Tokyo Olympics.
World Athletics has decided to suspend the Olympic qualifying period until December 1.
Law said: "Performances just now won't be taken into account, but I'll be looking for some big throws.
"I still want to do well for the rest of the summer period."