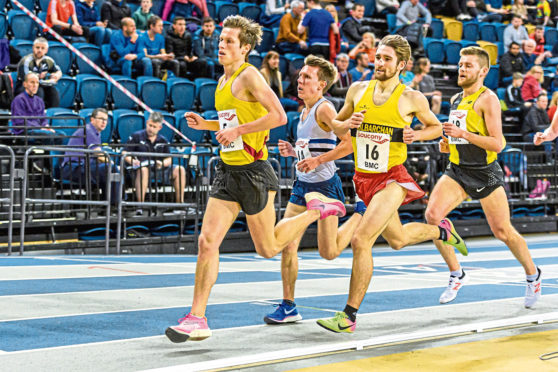 Stephen Mackay is confident there is more to come after blasting his way to a personal best 1,500m time in a British Milers Club meeting at Stretford.
The Inverness Harriers club member, who was competing on a track for the first time in close to six months, showed no signs of rustiness as he clocked 3min 45.84secs to scythe almost two seconds off his previous best set in 2019.
Mackay said: "It was my first race since finishing fifth in the British indoor championships in February, but I knew I was in good shape.
"I was expecting to run a fast time, but expecting to do it and actually delivering it is a different matter.
"Although I got a big personal best, it still had that first race of the season feel to it.
"I was a bit cautious early on, but when I got to the last lap I felt OK.
"To be honest, I genuinely feel I can run 3:41 or 3:42. If I can get more races I'm sure I can go faster."
Mackay has made good use of his time over the past few months by adding more mileage to his training programme while getting some quality work done overseas.
He benefitted from the positive relationship he has developed with top Scottish middle-distance runner Laura Muir and her coach Andy Young.
He joined them and another top young Scottish runner, Sol Sweeney, for a month-long spell at Font Romeu, the high-altitude French training camp favoured by generations of British athletes.
Mackay said: "Andy invited me to join them and I was there for most of July. It was great because I'd not been able to access a track until then.
"I've worked with Laura before on a previous trip when I was there specifically to help her but this time it was more about doing my own work.
"I did a lot of sessions with Sol. We complemented each other very well and I think it was mutually beneficial. It certainly got me firing, but a lot of the hard work had been done beforehand."
Mackay now plans to compete in the British Championships at the beginning of September after finally persuading UK Athletics to add his name to the entry list.
He said: "I didn't have a place to begin with, but I reminded them I reached the final last year and I was fifth in the indoor championships in February. Eventually I was told I could run.
"Apart from that, there's a few other British Milers Club meetings and some European meetings coming up. But it's difficult to plan to go abroad because the quarantine situation keeps changing.
"I just want to get as many races as possible. It's what I've been training for and I want to get some fast times."
Step up to 5000m could boost Commonwealth Games hopes
Mackay admits he is planning to step up in distance to boost his 2022 Commonwealth Games selection hopes.
The Inverness Harriers member is the north's top 1,500m runner at the moment. But Scotland's world-class strength in depth in the 1,500m is so great that, even if Mackay achieves his current goal of lopping another three or four seconds from his time, he will still be well short of the country's best for Birmingham 2022.
Among those ahead of him are Edinburgh AC's Jake Wightman, Chris O'Hare and Josh Kerr – the three fastest Scots in history, who have respective PBs of 3:29.47, 3:32.11 and 3:32.52.
Wightman set his PB last Friday in Monaco and is now the second-fastest Briton in history behind Mo Farah (3:28.81). He is also a European Championship and Commonwealth Games bronze medallist and was fifth in the 2019 World Championships.
Kerr is the British under-23 record holder and sixth in the world while O'Hare was an Olympic semi-finalist in 2016.
Giffnock North's British champion Neil Gourlay with a best of 3:35.95 and Perth's up-and-coming youngster Sol Sweeney, PB 3:42.77, are also in the mix.
There's also Central AC's Andy Butchart with a best of 3:37.58, but the Dunblane-based runner favours the 5,000m.
Mackay said: "These guys are so fast, so I'm really looking to step up to the 5,000m as I feel there's more opportunities. I had planned to try one this year, but because of what's happened with so many races being cancelled, that has been put on back burner. I'll definitely be trying it in 2021 though."