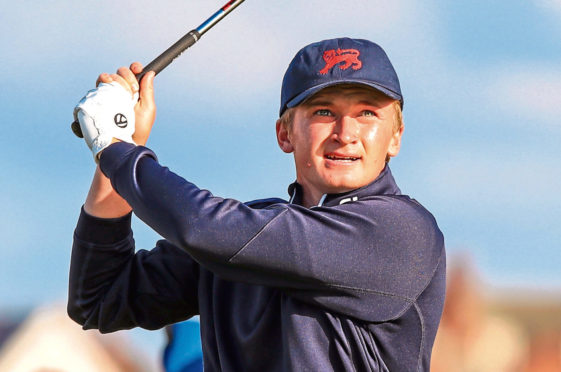 Nairn golfer Sandy Scott is relishing ticking off the US Open after earning a late qualification spot for the tournament.
Scott, a senior at Texas Tech University in the States, got the call early on Wednesday that he'd been chosen as one of seven top amateurs to join the field.
His performance at last week's US Amateur Championships pushed him further into contention, as he advanced to the round of 32 and was in sixth place when the latest World Amateur Golf Rankings were released. He also helped TTU to a number one national ranking this season.
Scott, who competed at the Scottish Open at Dundonald Links in 2017, will now prepare to head to Winged Foot in Mamaroneck, New York, for the US Open on September 17.
He said: "I knew the rankings spots were in place and the top seven would get in. I knew it was going to be close as I'd been sitting at sixth, seventh, eighth for a few weeks. I wanted to play the US Amateur just to make sure, rather than leaving it up to chance and, after a solid week, I knew I'd have a good chance.
"I'm really looking forward to it. It's certainly been a goal of mine to get to these major events, so it's fantastic. There's a good amount of time, about four weeks, to go.
"The good thing is the US Amateur was arranged by the USGA and a lot of the processes I'm going to have to do (for the US Open), I have already gone through.
"I've heard it's a great course. My coach at Texas Tech has been there and he can give me some insight."
Scott has been back in the States since the end of July, after spending some of the summer back at home in the Highlands.
His original plan was to turn professional this summer. However, after the academic year was brought to a premature end due to the Covid-19 pandemic, he was still entitled to another year of eligibility and chose to return to university.
He said: "I was hoping to go pro this summer, but opportunities were kind of slim. With everything that's happened, the best thing for me was to stay amateur and I had the opportunity to go back, with last year being cancelled.
"I can stay competitive and keep improving for when the time comes."
Scott said he enjoyed his time away from the course this summer while back at home, which was his longest stint back in Scotland since going out to Texas in 2016.
He added: "It was great to see everyone. It was good to take a step back from golf for the first part of lockdown and, once golf was given the green light, I got the golf bug back.
"I was playing at Nairn most of the time and they've just finished off the course changes, so it's fantastic. I love playing there."