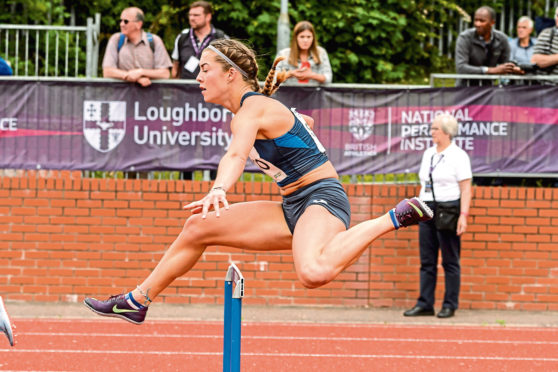 Anna Nelson's long-term goal is to represent Scotland at the 2022 Commonwealth Games.
In the meantime, the 24-year-old Drumnadrochit athlete simply wants to get as many races as possible under her belt before the end of a very short track and field season.
The 400m hurdles specialist has competed at meetings in London and Loughborough since the beginning of August and has races at Nuneaton on Sunday and at Manchester next weekend.
The Scotland international will bring the curtain down on her campaign by taking part in the British championships at Manchester Sports City on September 4-5.
Nelson said: "It feels a bit strange. I only had my first race a couple of weeks ago and that was more than a year since my previous one.
"Normally by this stage I'd be ending my season, but this year it's only beginning and it'll all be over in a few weeks from now."
The Highland athlete is based at Loughborough, where she is in the final stages of her masters degree course in sports nutrition, having graduated from Edinburgh University with a degree in applied sports science.
Her best 400m hurdles time of 58.87sec, set in 2018, is the 14th fastest by a Scot and, despite limited opportunities this year, she hopes to improve it soon.
Nelson opened the season at London on August 2, running a flat 400m in 57.86, then won a 400m hurdles at Loughborough last weekend in 60.96 before clocking 26.55 for a 200m.
She said: "I feel I have trained well during the lockdown period. I was at home for a spell training on the grass pitch at Drumnadrochit. I returned to Loughborough and had access to the track from about the end of May, so it hasn't been too bad.
"I don't think my hurdles time last weekend reflects where I'm at. Technically I didn't do well, but since then I've had a very good training session and feel I'm ready to run quicker.
"By the time the British champs come around, I'd like to think I can run in 58-second territory.
"Longer term, the 2022 Commonwealth Games is definitely a goal. I don't know yet what the qualifying standard will be. For 2018 it was 57.20, so I'm expecting it to be similar or maybe a bit better.
"I had a bumpy time with injuries last year, so I didn't improve my PB from 2018. But I feel if I can continue to improve between now and 2022, I should have a decent chance of reaching the standard.
"However, I prefer to look for improvement one year at a time then see where that takes me."