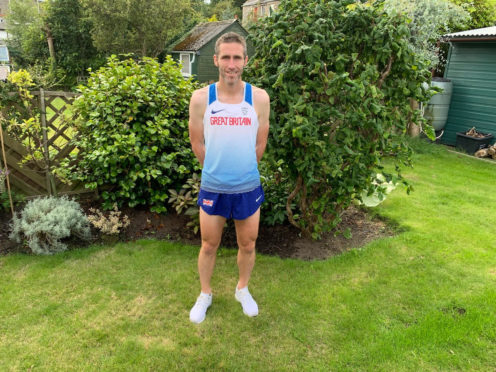 Metro Aberdeen's Dave Andrews is to fulfill a long-held ambition when he pulls on a Great Britain and Northern Ireland team vest for the first time next weekend.
It will, nevertheless, be a strange experience for the 44-year-old ultra distance specialist who will have no team-mates and no opponents to run alongside.
Andrews had earlier in the year been nominated as first reserve for the GB team for the European 24-hour championships in the Italian city of Verona in September, but continuing concerns about the coronavirus pandemic led to the cancellation of that event.
However, the International Association of Ultrarunners has now decided to offer some consolation for those who had been preparing for the event by organising a virtual six-hour global solidarity run over the weekend of August 28-29.
Countries were invited to nominate representative teams and Andrews was confirmed as one of the official Team GB members.
He said: "I was told a few weeks ago that I was in the team but it was only announced a few days ago. Looking at the others who have been picked, it seems to be mainly people like myself who were on the fringes of being selected for either the 100K or 24 hours championships.
"We have set up a What'sApp group so that all the team members can get in touch and get to know each other, so it has all been a bit different from normal.
"To be honest, six hours isn't my distance. It's a bit short for me, as my main focus is 24 hours, but I wasn't going to turn down the vest. It does, however, give us all a chance to show what we can do."
Thirty-two countries will be represented in the solidarity run with 238 men and 182 women taking part.
Teams have been entered from across Europe, North and South America, Africa, Asia and Oceania.
All competitors will run at venues close to their homes then provide evidence of their performances which will be collated into a set of results.
Andrews said: "I'm going to run at Duthie Park. It's only 3K from my house and I train there regularly. It's ideal as it's easy to measure how far I've gone and it's free from traffic. I usually follow a 1K loop, so I reckon I can get 80 laps done.
"I'll probably run it on my own although some guys have offered to come along and support me. It depends on what restrictions might be in place, so I'm waiting to hear from the GB officials as to what's possible.
"It doesn't bother me one way or the other as to whether I do it solo or have some company."
Dave still heading to Verona for race which could see him make GB 24-hour team for next year's European Championships
Andrews is thrilled to be representing Great Britain and Northern Ireland for the first time in a six-hour run next weekend, but it's only a warm-up for bigger challenges ahead.
The Metro Aberdeen member is part of a GB squad taking part in the IAU solidarity run on Saturday. More than 420 athletes are taking part, but each will be running in their local communities.
Andrews said: "I am really pleased to be selected for the six-hour event, but my main aim is to get on the team for next year's European championship 24-hour race.
"I was first reserve for this year's European championships in Verona, but the event was cancelled.
"However, there is still to be an open race in Verona, next month, and I'm planning for that to be my main target for the year.
"It has been a bit of a nightmare trying to get flights sorted out as they keep getting cancelled, but I hope it will work out as I have been training well for it.
"A good performance in Verona is important as it will be taken into consideration when selectors pick the team for the 2021 Europeans.
"I also have another 24 hours race at Gloucester in October which will be a back-up. It's being allowed to go ahead with a small field.
"So I'm not tapering for the six-hour run.
" I still plan quite a big week of running and I'm looking on it as part of my preparations for the 24 hour races.
"It fits in well with my programme."