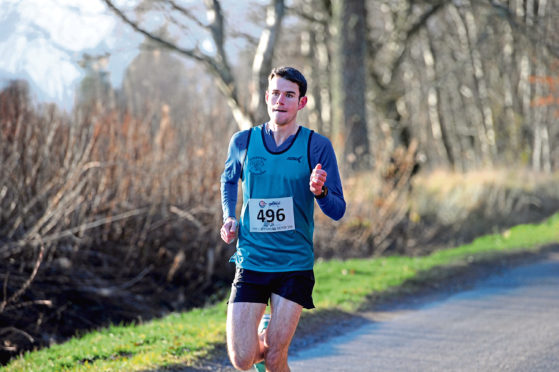 Great Britain international Robbie Simpson has turned down his place in the elite-only London marathon.
Banchory athlete Simpson will instead compete in next Sunday's Lairig Ghru race between Braemar and Aviemore.
The 2018 Commonwealth Games marathon bronze-medallist, who is also one of the world's top mountain runners, was given the opportunity to line up alongside Kenya's world record-holder Eliud Kipchoge and Ethiopia's three-time Olympic track champion Kenenisa Bekele in the London event on October 4.
Only 46 athletes will compete in the men's race to be held on a course which features 19.8 laps around St James's Park, with no spectators allowed.
Simpson said: "To be honest, I'm put off by the prospect of running all of these laps with such a small field of runners.
"If I was going to do it I would need to have been focused on it a long time ago. I'm not ready to run a fast time so there would be little point.
"There's still going to be an Olympic qualifying race of some sort next year, so I'd prefer to concentrate on getting into the best possible shape for that. Right now I'm happy to stay closer to home and do some of the local races that are coming along.
"I've always wanted to do the Lairig Ghru run, but it hasn't been possible to fit it into my programme because of other commitments until this year.
"Just being able to get any race is such a boost at the moment, so I hope nothing happens that will result in it being called off at the last minute."
Simpson would not be drawn on whether he plans to attack the course record for the 26-mile run between Braemar and Aviemore, which follows a testing route through the iconic pass linking Deeside with Speyside.
The current mark is 2:58:10 set by Murray Strain (Hunters Bog Trotters) in 2017. No one else has cracked the three-hour barrier since the race was first held in 1976.
Simpson said: "It's really very weather dependent. A couple of weeks ago these hill trails were dry and it was possible to run fast. But there's been a lot of rain since then and that makes it a completely different world.
"The wind is also a big factor. If it comes from the north then it just funnels through the pass and will slow everyone down.
"I'll just run hard and see what happens. I'll be chasing people all the way as the slower runners are going to start first."
Simpson has a couple of other races in the pipeline after Lairig Ghru.
He added: "There's a GB world mountain-running championships trial at Comrie in the middle of the month. I don't think the world event will go ahead, but it hasn't been cancelled yet, so the trial is still on.
"Then, at the beginning of October, I have the Bennachie 50km ultra trail race."