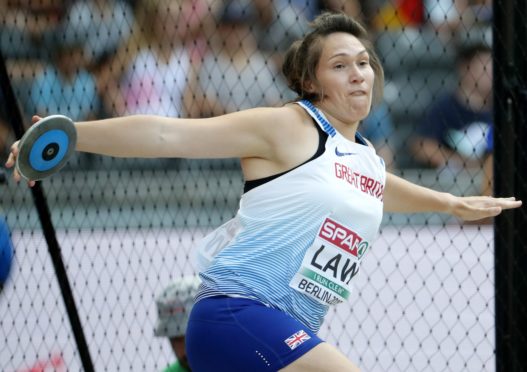 Kirsty Law (Inverness Harriers) is confident she still has much more to give after successfully defending her discus title in dramatic style at the British athletics championships.
The competition at Manchester Sports City got off to a sluggish start with neither Law nor her friend, training partner and main rival, Jade Lally, being able to reach the high spots.
Going into the sixth and final round, Lally, who represented Great Britain at the 2016 Rio Olympic Games, led with 55.13m, while Law was lying second on 53.70.
But the Highland athlete responded to the pressure and pulled out all the stops with her last throw, hitting 57.95 to exceed her previous PB of 57.79 set in 2012. Lally responded with 57.20, but it wasn't enough.
Law said: "I've waited eight years for a PB and what a place to do it. I am absolutely buzzing about it.
"I was throwing well in the warm-up, but I seemed to lose focus in the first round.
"Everyone seemed to be struggling and as it progressed it looked like anyone could have taken the title.
"Going into the final round I was thinking about what my coach would be saying to me – and he would have been telling me I could still win it, so I had that in my head.
"I knew it was a decent throw, but I tried not to get too excited until I saw the distance coming up. Jade actually saw it before me and she screamed with delight. She was genuinely pleased for me, but then had to compose herself for her own final throw.
"I am so happy, but it wasn't actually a great throw, which is a positive thing as I know there's much more to come and I can throw even bigger. The conditions weren't all that great either."
Law wasn't put out by the fact that no spectators were allowed into the arena due to coronavirus restrictions and seats were filled by cardboard cut-out fans.
She said: "The atmosphere was great. I didn't notice there was no crowd. The other athletes and coaches were cheering everyone on and there was music being played so it was actually fine."
Law was back in action little more than 36 hours after her Manchester success, producing another fine throw of 57.66 at Lee Valley, London.
Stephen Mackay (Inverness Harriers) finished 10th in the men's 1500m final at the British championships, recording 3min 54.07sec after clocking 3:47.28 in the semi final.
Brighton's George Mills won the title in 3:51.39 with Scotland's Neil Gourlay (Giffnock North) second in 3:51.54
Loughborough-based Drumnadrochit athlete Anna Nelson (Inverness Harriers) failed to reach the final of the women's 400m hurdles. The Scotland international was fifth in her heat in 62.52secs.