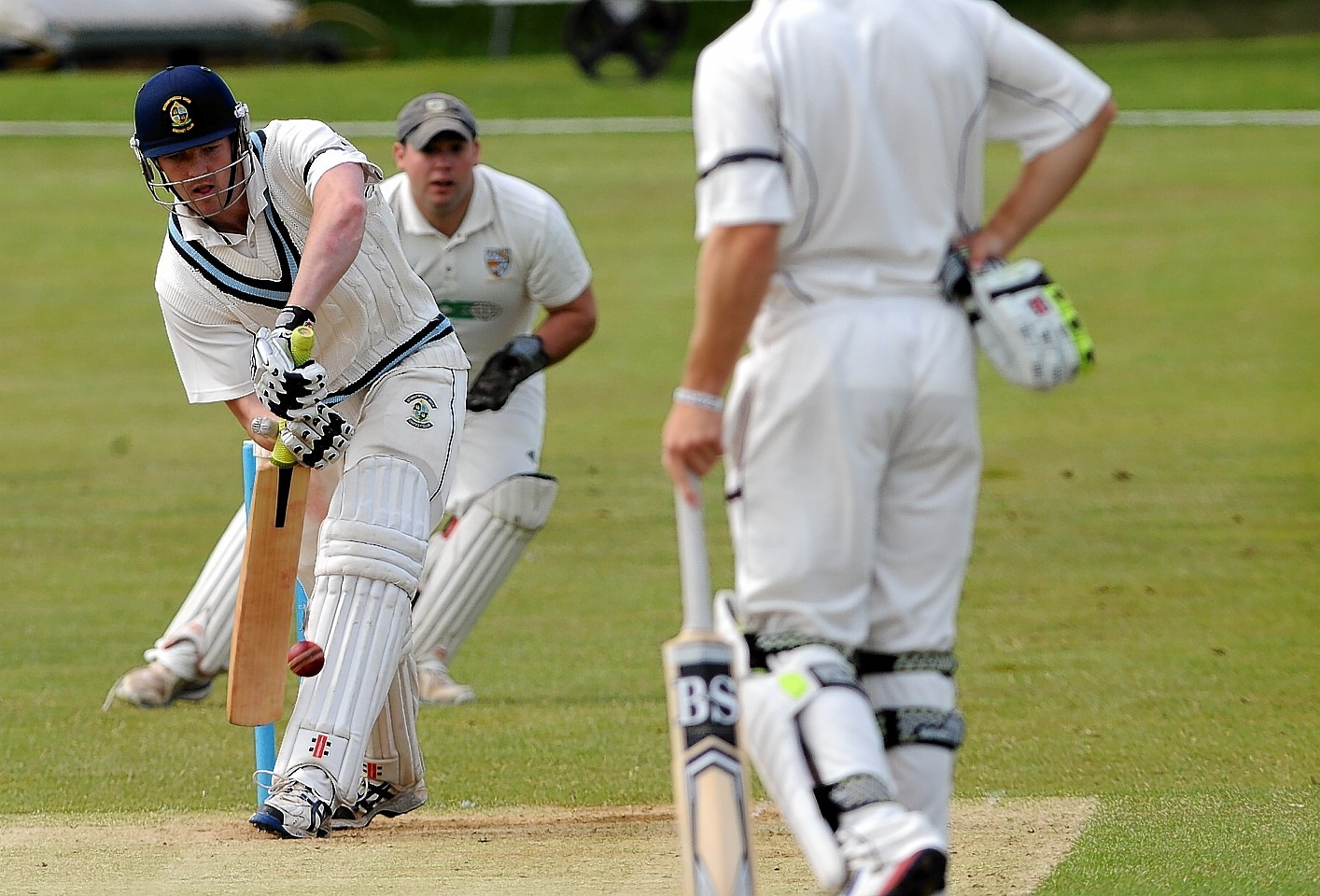 Stoneywood-Dyce blew a gaping hole in the title hopes of city rivals Aberdeenshire, comprehensively beating the Mannofield side by seven wickets.
Magnificently led by inspirational captain Michael Leask, the People's Park side were dominant in all phases of the game, and while one man does not make a game, the Scotland international produced a stunning performance, taking four wickets for 40 runs and pocketing a blinding match-changing catch before hitting a half century from 30 balls in just 45 minutes.
It was the perfect ending to the week for Leask, who earlier in the week, had hit a brutal 132 at Dumfries to help the Highlanders beat the Reivers and win the Twenty20 North Sea Pro Series.
Leask was keen to play up the contribution of his team mates rather than the part he had played. "We don't often beat Shire, which makes this win just a bit special. I thought we did well to bowl them all out for 156 in 41.2 overs and fielded well, holding our catches and generally getting it right," he said.
"Ali Gill had a great spell with the ball, taking three for 22. When we batted we built three good partnerships, something we have not done before this season.
"Shalk Conradie's unbeaten 65 was the cornerstone of our innings, while Eddie Steinson hurried things along when it mattered," added the 23-year-old who got the day off to a winning start, calling the toss correctly before putting the home side in to bat.
The visitors got a quick return when, in the second over, Leask bowled Kenny Reid for a duck with the score on six before Hays van der Berg joined opener Chris Venske to continue his century-making form of last week in the Scottish Cup.
The two looked set to establish a big partnership, especially when Venske cut loose with successive hits for six and four against Leask who then turned the match two balls later with a brilliant caught and bowled, diving to his left to dismiss the South African for 24 and the score on 62.
Club professional Harsha Cooray then joined Van der Berg but just when he looked set, was on receiving end of a marginal decision when given leg before on 13 when facing the bowling of former Shire favourite Jan Stander with the score on 96.
Thereafter Stoneywood-Dyce required no more luck, as Shire capitulated with a series of cross bat shots which reduced them to 156 all out. Van der Berg was the exception, scoring a painstaking, but skilled 55 from 85 balls before being brilliantly caught by Elton Willemse although Adrian Neill chipped in with a tidy 18 to embarrass the higher order batsman.
Set a low target the Peoples Park batsmen took their time, crawling to 67 for two from 28 overs until Leask took centre stage, straight-driving his first ball for four to signal the end was nigh for Shire. His partnership of 86 with Conradie, to which Leask contributed 55, included seven fours but ended needlessly four runs from victory when he attempted to hook his opposite number Tyler Buchan, only to be caught in the deep.
A disappointed Buchan admitted his side's 156 was never a challenging score but said: "Give credit to Stoneywood-Dyce, they were really up for this one. It just wasn't our day."