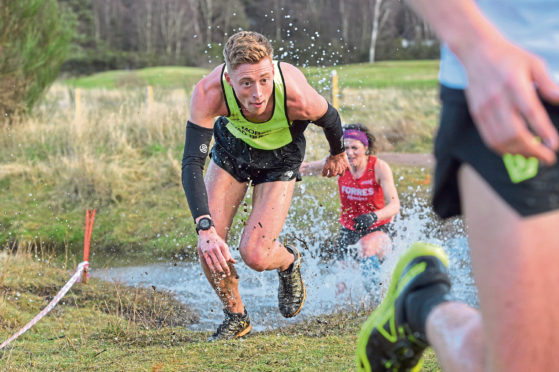 Kenny Wilson's long wait for a marathon continues – and it looks as though he'll be hanging on for another six months or more.
The Scotland international, who represents Moray Road Runners, was planning to compete in a specially arranged race for some of Britain's best runners at Wrexham next month, but that has now been cancelled despite the best efforts of the organisers.
It is disappointing news for the Craigellachie athlete who was confident of dramatically improving on the 2hr 22min 39sec he posted when making his debut at Frankfurt last October.
He said: "I started my specific marathon training in January. At that time I was planning to do London in April, but it was postponed until October. That was fine, but then it was decided London would be an elite-only race and I didn't get in for that.
"A race was then planned for Wrexham at the beginning of October, but it had to be put back to the middle of the month. Now it has been cancelled altogether.
"It's a shame for the people who were trying to organise it as they put a lot of work into trying to make it happen.
"Even when the Welsh authorities said it couldn't go ahead they looked at moving it across the border into Cheshire, but didn't get permission for that either.
"In a way I'm glad the decision has been made as I wouldn't have liked another postponement. This is about as late as I could have considered doing a marathon this year.
"It has been tough not knowing what was happening. Since the beginning of the year I have been training for one day, but that day kept changing.
"It's quite hard trying to hang on to your form while never quite knowing when you might be racing."
It would be understandable if Wilson expressed frustration over the situation, especially as he'd clocked a PB marathon time of 2:21:38 on a training run at the end of August and was confident he could go well under the 2:20 barrier in a real race.
But he prefers to reflect on the positives and is willing to be patient.
He said: "It has still been a successful year. I got a half marathon PB before lockdown, then I had that unofficial marathon time. It's just a pity I didn't get a proper race to see what I can do.
"I'm now looking to next year.
"As the London and Manchester marathons have both moved from their spring dates to later in 2021, the Wrexham organisers hope to put on their race in April.
"I'd be keen to do it then finally get to run at London next October. In the meantime, I'll have a bit of a rest.
"I'll keep training, but it'll be more ticking over for a while before I start building up again."
Meanwhile, Scottish road runners have been dealt another blow with the cancellation of the Loch Rannoch 10k, half marathon and marathon scheduled to take place over the weekend of October 17-18.