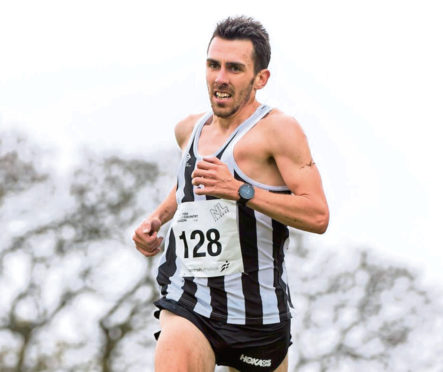 Highland athlete Andy Douglas admits he was well beaten when attempting to defend his title in the Trofeo Nasego mountain race held on the outskirts of the Lombardy town of Casto at the weekend.
The Great Britain international, who won the world cup mountain running series last summer, travelled to the Italian Alps in search of his first overseas competitions of the year.
Douglas's plan was to repeat the double-header he had successfully negotiated in 2019 by firstly taking part in the VK Vertigo Nasego, a short but brutally tough race in which competitors climb 1,000m over a 4.3km course, before tackling the 21km Trofeo Nasego less than 24 hours later.
He had finished fifth in the 2019 VK prior to setting a course record time in the longer race the following day.
However, it didn't quite go so smoothly on this occasion. Conditions were far from ideal for the VK with cool temperatures, low cloud and wet underfoot terrain making the route tricky to negotiate.
Italy's Henri Aymonod took it all in his stride, though, as he powered to victory in 35min 47sec while Douglas tried to keep something in reserve when finishing eighth in 38:38.
However, Douglas's hopes of victory in the 21km race were dashed when he lined up against a top quality field led by a group of athletes who had sat out the previous day's VK race.
French runner Sylvain Cachard made the Trofeo Nasego his main target for the year and his meticulous preparations paid off when he got the better of Italy's Francesco Puppi to win in 1:34:11 to scythe 86 seconds off Douglas's record.
Puppi was also inside the old standard when taking second in 1:35:16. Another top Italian, Xavier Chevrier, was third in 1:37:28 while Douglas was fourth in 1:37:36. Douglas said: "It was a hard couple of races. Predictably, I struggled with the VK, so I tried to save a bit for the 21km race.
"But with my course record from last year falling, even if I hadn't done the VK, it would have been too much to keep pace with the top two guys."
Prior to his Italian double, despite training all through lockdown, Douglas had only one other race since March, finishing second behind Deeside's Robbie Simpson in the Scottish hill running championships at Comrie.
However, he is now contemplating a return trip to Italy at the end of October. Douglas said: "I think I'll try to hold on for Trofeo Vanoni at Morbegno in three weeks' time.
"There have been so few races this year, it will be good to fit another in. Then it's definitely time for a couple weeks of rest and recovery before I build back into winter training."