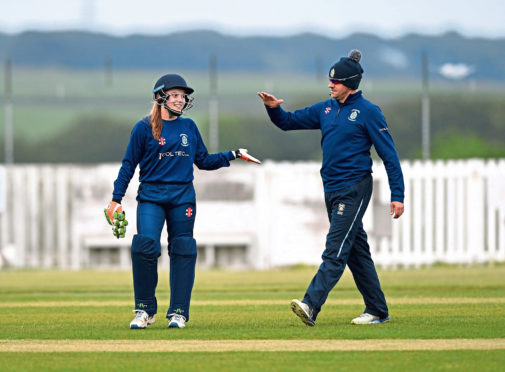 The quality of coaching on offer at Huntly and Stoneywood-Dyce has contributed to a north-east teenager gaining a place in the Scotland Women's squad to play Ireland in Spain in November in five warm-up games for next year's Euro competition.
Ailsa Lister, a 16-year-old, learned her wicket-keeping trade at Huntly under the expert eye of the head coach Neil Nicol. She now plays for Stoneywood-Dyce, where she is pushing for a place in the Peoples Park's Eastern Premier side.
The talented teenager is also an outstanding middle order batter, who gained a place in the Scotland under-17 side when she was only 13 and has been a regular ever since.
Lister was delighted and shocked to have made the breakthrough to the senior Scotland squad, but chose to recognise the efforts of those who had helped her win a place in the squad of 14 who will play two ODI's and three T20 games next month.
She said: "I owe so much to Neil Nicol at Huntly. He is an outstanding coach who also coached Kirstie Gordon, the Scotland and England spin bowler who in turn helped me with my game, while Calum Howard of Aberdeenshire encouraged me to keep wicket.
"After I moved to Stoneywood-Dyce, Michael Louw became my mentor.
"They have all been just great. I won't be first choice wicket-keeper in Spain as Sarah Bryce has the gloves, but I love fielding and will be able to concentrate on my batting."
Her flamboyant style has already caught the eye when, in a friendly game against local rivals Aberdeenshire in September, she hit a belligerent, but mature 33 to take the game to the young Mannofield side.
Jan Stander, the Stoneywood-Dyce president, acknowledged the progress Ailsa had made on the Scottish scene.
The former Scotland player said: "Ailsa has worked really hard in training at the People's Park, proving Fiona Urquhart was not a one-off for the club. We are all delighted for her."
When Lister teams up with the squad next month, she might just feel more at home than most of the squad, as head coach Steve Knox was an opener with Stoneywood-Dyce, but some considerable time before she arrived there.
She said: "I am really looking forward to the experience, especially as we didn't get much cricket this summer.
"Cricket Scotland has done really well to get these fixtures set up against an Irish team who are above in the rankings."