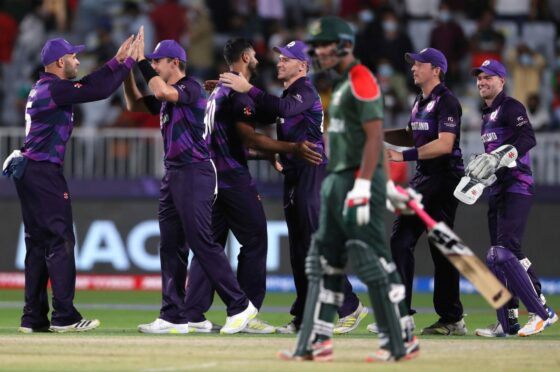 The last fortnight has arguably seen the greatest exposure the Scotland cricket team have ever experienced on the international stage.
Sure, there was the famous win over England at the Grange in 2018, but their qualification into the Super 12 of the T20 World Cup has highlighted more sustained progress.
The last two games have not gone to plan, with a heavy defeat against Afghanistan and a below-par batting performance against Namibia handing them back-to-back losses.
But their three group-stage wins and core of north-east players have not gone unnoticed back in the Granite City.
"The boys have played with flair and that's what's got them to where they are," said Jan Stander, who played for Scotland in the 2009 T20 World Cup and is player-coach at Stoneywood Dyce. "They've continued to play that way, which is encouraging.
"It's very difficult when the top-order loses wickets but the team has played that way to give everyone freedom.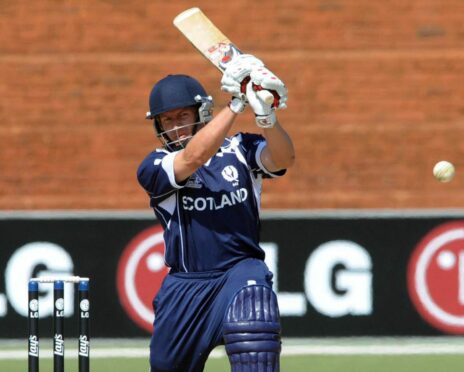 "The way the cricket community has supported them, not just in Scotland but further afield, has been immense. They are on the world stage now.
"One thing I will never forget is that while I feel I'm quite mentally strong, playing in the World Cup was a totally different type of pressure."
Scotland all-rounder Michael Leask came through the ranks at Stoneywood Dyce and plays his club cricket at Forfarshire. His performance with bat and ball against Namibia deserved great credit.
"We always knew Michael had the potential from a young age," added Stander. "He was always able to hit the ball for but seeing him do it in the World Cup was brilliant.
"He's been pretty consistent over the last 10 matches and if it's not with the bat, he's contributing with the ball."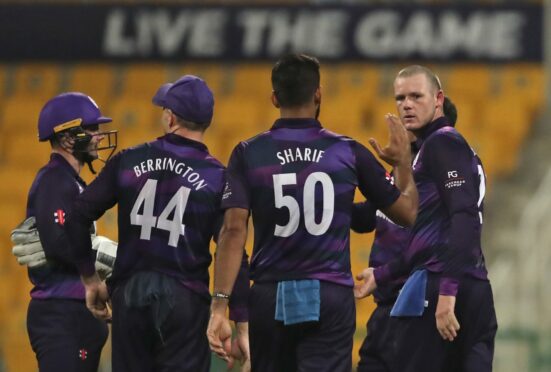 The surname Coetzer will be familiar to so many within Aberdeen and Scotland cricket circles.
Kyle Coetzer has been synonymous with the Scotland cricket team for the best part of 20 years. Back when his cricketing career was in its infancy, he was another who grew up playing for Stoneywood Dyce and learning his trade in Aberdeen.
His brothers Stuart and Shaun have also been regulars at People's Park and have been watching on with interest during the World Cup.
"They did well to get through but now it's a different mindset," said Shaun. "The first two games in stage two probably haven't gone to plan but at the same time, T20 cricket can change quickly. I still think they're going to surprise one or two big teams.
"I think they've been a little unlucky, as they have had four umpire's call LBWs go against them. If you put their results in context, they have been disappointing but the West Indies were bowled out for 55 and other scores have been in the low-100s, so it's tough conditions for batting."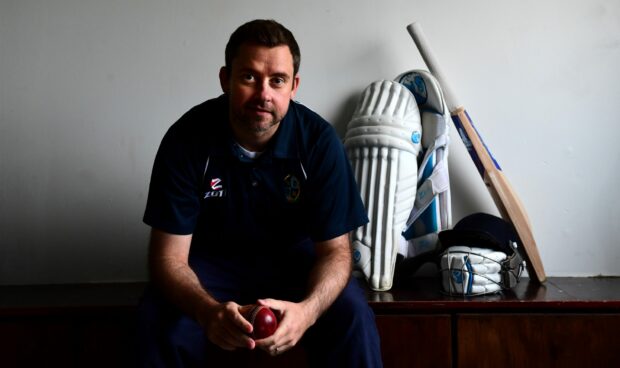 He has been keeping in touch with Kyle throughout the tournament. The Scotland captain sat out the defeat to Namibia with a finger injury, with hopes the week break before the New Zealand game can see him back involved.
"He enjoys getting out and speaking to people, trying to improve his knowledge and developing the team," Shaun added.
"He's quite a positive character and one of the things I know from speaking to his former colleagues at Durham and Northants is he's very level-headed. He doesn't get excitable or depressed with how he's performing.
"Everyone knows he's so consistent with how he's acting around them, what he expects of them and what he expects of himself. He looks to move forward and doesn't dwell on the past.
"After the Afghanistan game, where they struggled against the spinners, I had a conversation with him and this is what he took out of it, how they bowled and what his team need to improve."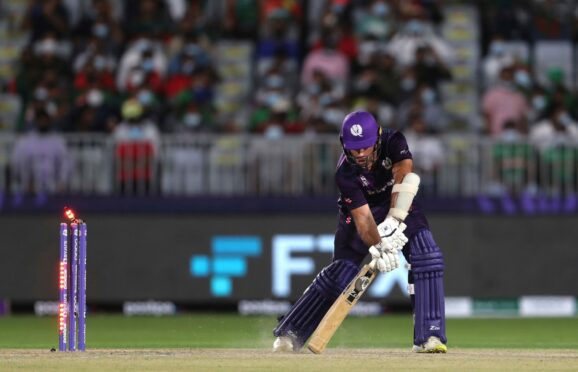 There has been frequent talk from within the Scotland camp about creating a legacy for cricket in this country. Both Mark Watt and Calum Macleod have spoken about it in their media duties, in using this run as a way to inspire a renewed interest in the game.
"No-one I work with nowadays plays cricket but they are asking me about it, because my brother is there," said Shaun. "Hopefully Scotland can keep up the high level of exposure and what they're going to need is some big games next year to keep that going.
"People who have had no interest in cricket before, or have turned their noses up at it, are now asking questions. I have sent them snippets on WhatsApp, like Ally McCoist's interview, or clips of catches and wickets.
"It might only be five minutes they're interested but it might spur them to get involved in the game."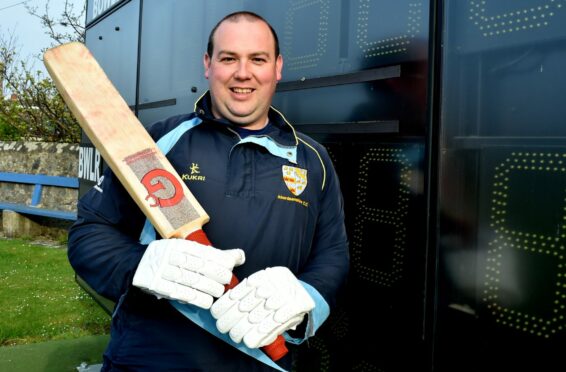 Across the city at Aberdeenshire CC, their club captain Kenny Reid retains belief in Scotland delivering an upset in one of their final three games against New Zealand, India and Pakistan.
"Losing wickets in clumps puts you on the back foot straight away," he said. "But they will still believe they can cause a shock or two in the final three games.
"It's definitely the best Scotland squad I can remember, the depth is unreal. Craig Wallace hasn't played much and Dylan Budge and Hamza Tahir have not had a game yet.
"The boys will be hurting and will feel as though they've not reached the levels they can. They'll definitely be striving next week to put it right and make a shock against New Zealand."
Scotland wicket-keeper Matthew Cross was a teenage prospect at Aberdeenshire, before moving away for university. He represented national youth squads while breaking through for Shire.
Having one of their own on the global stage gives the club an opportunity Reid wants them to make the most of.
"Matty and I played together in 2008 and 2009 I think," he added. "He left when he was 18 to go to Loughborough but he was always a good prospect when he was with us.
"To see the level he's reached this year – he's come back up the road to play at Heriots and some of the scores he's been getting, you can tell he's on another level.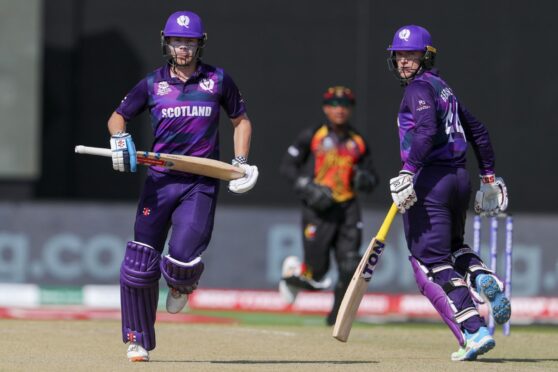 "He's definitely a role model to tell our kids to play up to and what you can achieve if you put the work in.
"He trained at Mannofield (Aberdeenshire's ground) for one night in 2019 and the way he hit the ball was just different to everyone else.
"If we can produce another one or two like him in the next 10 years we'll be doing alright."
Bowler Josh Davey was also born in Aberdeen, where his father worked in the oil industry, but moved to America when he was nine months old. He has played county cricket for Middlesex and Somerset and has represented Scotland since 2010.
The work on finding new stars starts at grassroots level and like many clubs, Aberdeenshire are trying to do their bit. They also want to capitalise on the Scotland women's team advancing to the global qualifier for the T20 World Cup and have recently launched a girls and women's team.
"It's always been a challenge," added Reid. "I was junior coach at Mannofield for a while and you got kids up to 13 and 14 before other things take precedence.
"If we can use this exposure the Scotland boys are getting to inspire these guys to stick with it, hopefully we can have another group of kids from Aberdeen challenging for honours at international level."