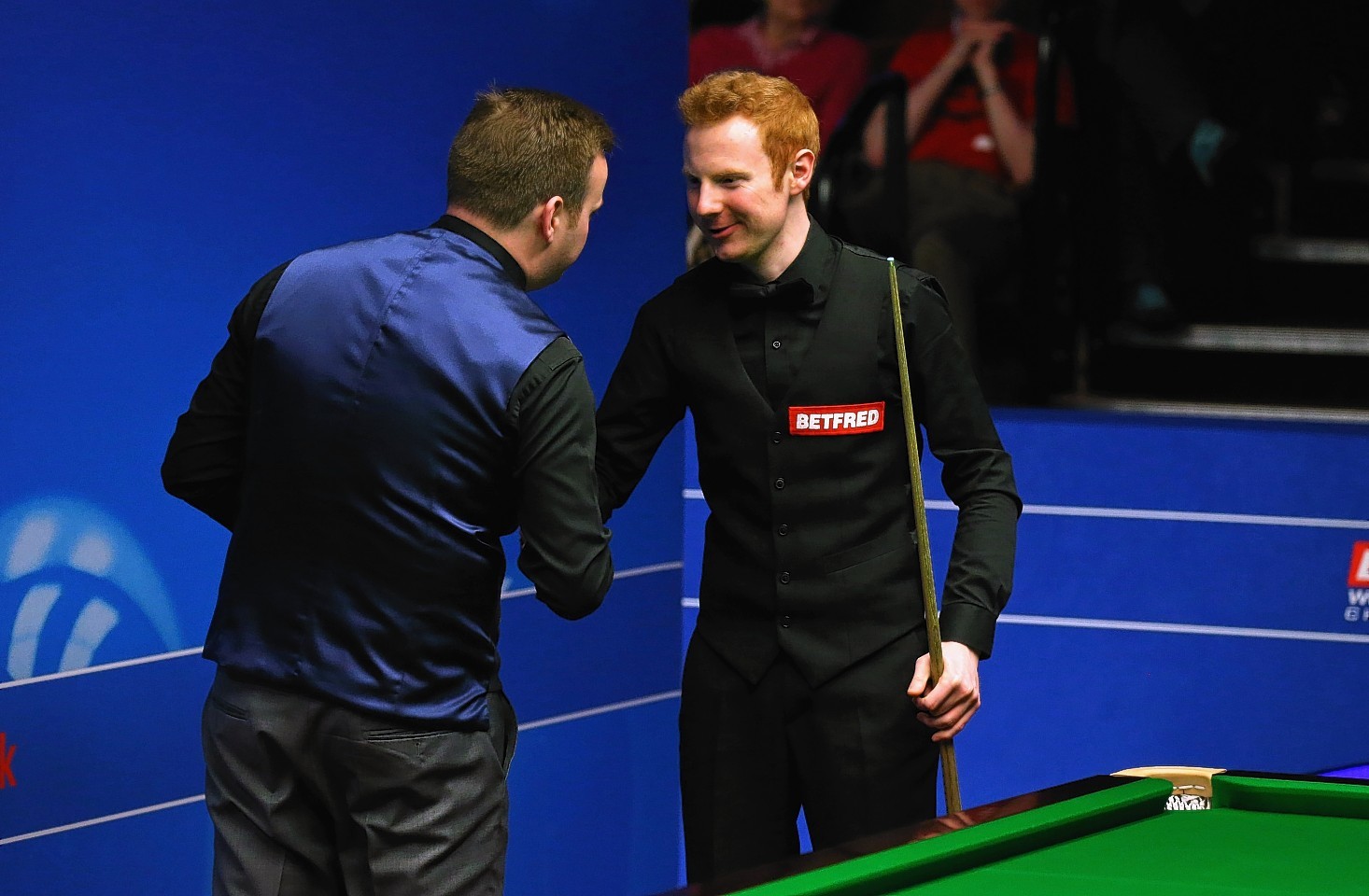 Anthony McGill's extra-ordinary world championship debut ended at the quarter-final stage, but the Glaswegian hopes his first appearance at the Crucible will not be his last.
The shy 24-year-old has won the hearts of spectators and viewers over the last 12 days with magnificent victories against compatriot Steven Maguire and holder Mark Selby.
But England's Shaun Murphy eventually proved too strong for McGill yesterday, winning four frames on the spin to seal a 13-8 victory.
McGill has earned £30,000 for his performance and a rise to a career-high world ranking of 24th.
And now that McGill has had a taste of the big-time, he is hungry for more.
He said: "I've learned this is the best place ever to play and hopefully I can come back.
"I'm just really grateful I've had a chance to play here.
"People kept saying I was getting good receptions, I was just amazed.
"My family are really proud. It makes them really proud to see me playing here. It makes me proud as well. It's not easy to get here.
"I don't think anyone belongs here, it has to be earned.
"But I felt great. I loved it and hopefully I can do it again out there.
"I've surprised myself a bit. I was just hoping to qualify and thought that would be a job well done.
"I won my first match, then I beat Mark Selby.
"There's obviously a bit of disappointment, because I know I was one win away from the one-table format.
"I have watched that on TV and it just looks incredible, but I was not expecting to get anywhere near it, so it's not a massive disappointment."
McGill, who reached the UK championship quarter-final this season, was hoping to become only the third Crucible debutant to reach the semi-finals – after Andy Hicks in 1995 and Terry Griffiths in 1979.
To do so though, the last qualifier to win in Sheffield was standing in his way and Murphy took a 9-7 lead into yesterday's afternoon session, having won three of the final four frames on Tuesday night.
McGill showed no sign of nerves despite being on the brink of carving out his own slice of history, going close to making his fourth century of the tournament with a break of 95 in the opening frame.
But he was virtually powerless to stop what was to follow. McGill was confined to his chair as Murphy knocked in 72 and after winning frames 19 and 20 he took the match with a break of 67.
The young Scot looked understandably short of energy as the gruelling quarter-final came to a close and admitted he was second best.
"I was completely hammered, he was far too good," was McGill's honest assessment.
"The guy is a world champion, he's 10 years older than me. He's been here many times.
"I'm just coming up and he's already up there, so that's the difference. It just takes time."
British Eurosport is the home of snooker, showing 19 tournaments per season including the world championship, UK champion-ship the Masters and all other ranking events. Available on Sky, Virgin Media & BT TV or online/mobile via eurosportplayer.com