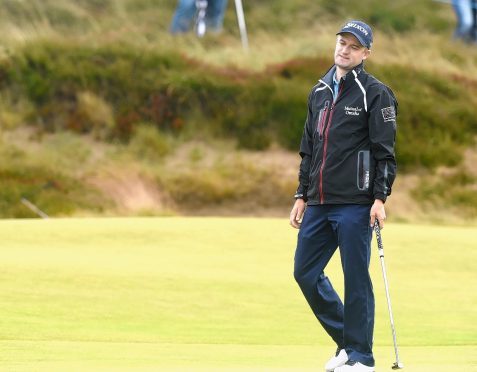 Russell Knox's ambition of making the European Ryder Cup team will now hinge on finding one good performance in this last month of qualifying.
Knox moved to 20th on the European Ryder Cup world points table after his share of 22nd place in the rain-affected US PGA championship at Baltusrol.
It was the Scot's best showing in eight appearances in the majors, with this year being a milestone first for Inverness-born Knox who contested all four majors in a season for the first time.
For all the progress he has made in 2016, however, it may yet prove to be in vain for Knox.
He knows unless he breaks into the top-nine automatic qualifiers by the cut-off date of August 28 he will not be heading to Hazeltine.
"All I can do is try my best," he said. "I've had my opportunities recently and I've done all right, but I probably needed to be in contention once to really catch the eye.
"I think my consistent play has been good, but I will need one more really good performance if I am to make the team."
The countdown to the events which will shape his destiny has begun.
Knox has the Travelers championship, which starts on Thursday, plus three other PGA Tour events to qualify for Darren Clarke's side.
Clarke will name his three wildcard picks on Tuesday, August 30.
And one of those events is the Barclays champion-ship on August 25 and the opening event of the FedEx Cup play-off series.
Knox clearly continues to rue last November's WGC-Champions victory in China does not count towards the Ryder Cup, but has only himself to blame by not joining the European Tour ahead of teeing-up in Shanghai.
"I am not 100% sure how many Ryder Cup points I would have got in winning the HSBC Champions but if that counted I would be right up there," he said.
"Those are the rules so whoever makes the team deserves to, although there are about 12 players who could still make the European Team and I would love to one of those.
"If not, there are 12 players who will deserve to be there more than I do."
Looking back on this year's majors, the Scot singled out the US Masters as his best effort, despite rounds 79 and 73 and the only major he failed to play all four days.
"I played my best in the majors this year at the US Masters but missed the cut. From tee to green I was unbelievable there," he said.
"I just made a mess of two holes and putted terribly to miss the cut there.
"I was pretty good at the US Open (tied 23rd) but had massive driver problems that week so I wish I could go back there with the driver I've found as I used multiple drivers at Oakmont the four days.
"At the Open champion-ship I played fine but probably didn't deserve to finish much better than I did (tied 30th). The US PGA was my best finish in a major so I am happy."
Knox believes he can put himself into contention and step forward like Jimmy Walker to be honoured at the game's highest level.
The American claimed his first major win of his career on Sunday and Knox has designs on emulating the feat by claiming a major title of his own.
"I know now after playing all four majors this year I am good enough and I know also what I have to work on if I am going to win another tournament or win a big one," he said.
"I just have to putt a little bit better, but tee to green I believe I am as good as anyone, even though I am not as long off the tee as some of the big boys. I can hit the fairways and hit the greens as good as anyone."