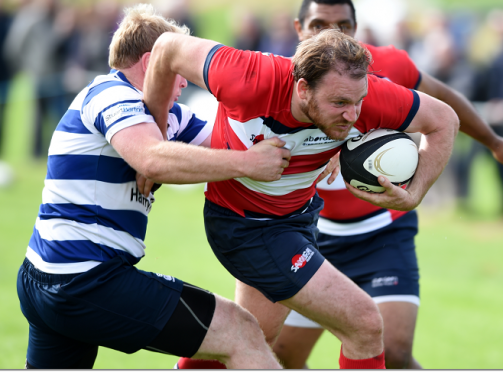 Aberdeen Grammar have suffered a huge blow on the eve of one of their biggest games of the season after captain Calum Champion was ruled out for the rest of the season with a broken kneecap.
Champion suffered the injury on Wednesday while playing for the Police rugby team against the Army.
Grammar coach Ali O'Connor, whose side face Stewart's Melville FPs in a crucial National 1 fixture at Rubislaw tomorrow, said: "The loss of Calum is massive for us. He is in hospital in Glasgow and we're just waiting to hear how bad it is, but it doesn't sound good.
"The last thing I said to him when he told me he was playing was 'don't get injured' and it looks like he's going to be out for a while.
"The timing couldn't have been worse for us, but the important thing for Calum is he makes a full recovery."
The return of talisman Peceli Nacamavuto at centre will help soften the blow of Champion's absence from the team.
The Fijian played his last game for the club on September 10, a 38-26 win against Howe of Fife, before taking up a post with the Army in London.
However, Nacamavuto has agreed to play for his club once more.
His return comes with Grammar second bottom of the division, one point behind tomorrow's opponents at Rubislaw.
O'Connor said: "We're pulling out all the stops for this one as it's a crucial game and the first in a season-defining three-game run for the club.
"We face a trip to Howe of Fife next weekend and host Hamilton in our first game back on January 7 and it looks as if Peceli is going to be available for all three games.
"Chris Prentice will also play on Saturday before flying out to New Zealand after the game.
"We know how important this match is. Win it and we're in a good position going into the next two games but lose and we're going to be on the back foot. It's a critical stage of the season for us."
Nacamavuto, who is based in London, will not be short of match fitness as he has been turning out for English National League 3 South West side Bracknell since leaving Aberdeen.
He said: "Bracknell are in mid-table at the moment but we're hoping we can force our way into promotion contention for the second half of the season.
"I'll still be having Christmas in London but I've spoken to Bracknell and I have their permission to play for Grammar for the next three games."
Nacamavuto has been keeping tabs on the pro-gress of his former club since moving to England and was surprised to see Grammar in the relegation mire after a promising start to the season.
He said: "It is nice to be coming back and I'm looking forward to playing again although I wish it was under happier circumstances. I see it has been a difficult time for Grammar since I left and it is hard to believe as we started the season so well.
"It's not so good now, but hopefully I can help in the next three games."