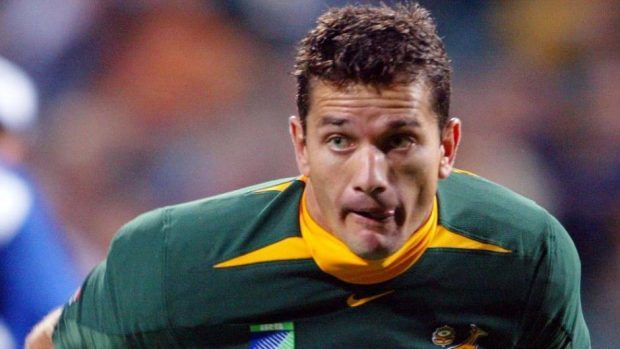 Joost van der Westhuizen was one of the most fearsome battlers on a rugby field the sport has ever seen.
He terrorised opponents with his meticulous dedication to his craft, helped destroy Scotland at Murrayfield in 1994 and famously guided South Africa to the 1995 World Cup as Nelson Mandela watched from the sidelines.
Sadly, there was one fight the little man couldn't win after he was diagnosed with motor neurone disease. As we've learned recently, in the case of Gordon Aikman, this condition comes with a terminal sentence.
So it comes as no surprise – and yet remains shocking – that Van der Westhuizzen has succumbed at the age of just 45.
I remember meeting the totemic Springbok scrum-half on a visit to Edinburgh in 2013. He was visibly struggling by that stage, speech was a problem, and he admitted to missing the chance to wake up in the morning and go out for a walk.
And yet, despite his myriad travails, Van Der Westhuizen was committed to helping the all-imperative search for a cure. It was too late for him, personally, but he had joined forces with leading researchers at Edinburgh University to find a means of eradicating MND.
His attitude to his predicament was typical of the courage which typified his performances while winning 89 Test caps.
As he told me: "In the beginning, you go through all the emotions and you ask, "Why me?" It's quite simple – Why not me?
"I am just another human being. This illness can strike anybody and it doesn't matter whether you are a sportsman or a shop worker, it has the same effects.
"If I have to go through this to help future generations, why not me?"
"I'm not going to mince my words. MND is a horrible condition. It leads to weakness and wasting of muscles, causing paralysis and difficulties with speech, swallowing and breathing.
"Did I imagine I would get this while I was playing rugby? Of course not. But you can't afford to waste time on questions like that. You have to do your best to rise above it."
As anybody who ever watched him on the pitch would appreciate, Van Der Westhuizen was no dewy-eyed sentimentalist. He talked about the quest for a cure for MND, but knew it was too late for him. Yet he wasn't prepared to go quietly.
As he added: "I realise that every day could be my last. It has been a roller coaster from day one and I know I am on a deathbed from now on.
"I used to live my life at 100 miles an hour, I never stopped. But I have learned that there are too many things which we take for granted and it is only when you lose them that you appreciate what it [life] is all about.
"It is sometimes difficult to stay positive and motivated. But I know that God is alive in my life and, with experience, you do learn.
"I have had my highs and I have had my lows, but no more. I am a firm believer that there is a bigger purpose in my life and I am very positive."
He was a brave player, the sort of rugged, redoubtable individual any country would want in their ranks.
One hopes there will be a minute's applause at this weekend's Six nations matches to mark the passing of a true rugby legend.