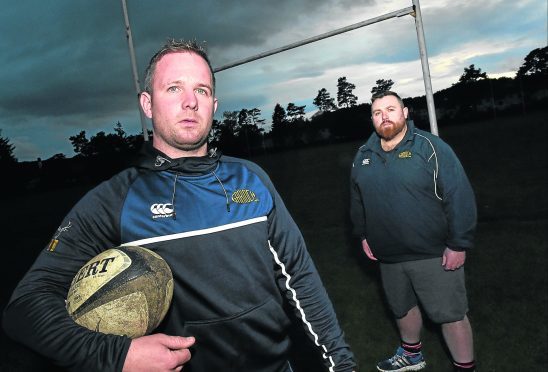 Garioch Rugby Club has revamped its top positions to celebrate its 40th anniversary.
At the age of 35, Rob Bly is one of the youngest presidents in the Caledonia game and continues to contribute on the field where he occupies a key role as a prop forward.
Dave Duguid, 33, becomes the head coach, taking over from former professional Stuart Corsar, while 28-year-old Sean Low is the new captain of the Kellands Park side.
Bly believes the move is very much in keeping with the club ethos.
He said: "Garioch has always promoted young players and will continue to do so.
"What we need is a solid structure which pulls together all that is good at the club, including our successful women's team.
"The appointment of Dave is a forward-thinking move, while Sean is a thoughtful, committed captain with an eye on the future.
"In the short term we want to get the structure right and in the long term be a force in Caledonia rugby.
"We will be embarking on a major recruitment drive for players. In the meantime we would like to hear from young people who want to play the game."
Duguid, a former centre in the Kellands Park set-up, welcomed the appointment of Bly.
He said: "Rob will take the club forward with his strong leadership, my role is to ensure we get it right on the pitch.
"We are doing well in Caledonia 2 North and will be seeking to consolidate our position. Promotion may have to wait for another year."
New captain Low, who hails from Turriff, is equally excited by the new set-up but impatient to get his team into the top flight in the Caledonia League.
He said: "We have a great youth set-up but I like to win and will be doing all I can to get us promoted."
Garioch meet Aberdeen University Medics tomorrow, seeking to improve on their fourth position and would welcome new members, particularly from the Inverurie area.
Unbeaten leaders Ellon travel to Invergordon to play Ross Sutherland.
Ross Sutherland suffered a heavy defeat at the hands of Mackie FPs last weekend and the Redcloak men will again fancy their chances away to Deeside.
Mackie are bidding to keep the pressure on Ellon and second-placed Moray, who are at home to Highland 2nds. RAF Lossiemouth, who have two games in hand, host Stornoway.
In Caledonia 3 North, the postponement of the meeting of the top two sides, Kinloss Eagles and North Scotland Police, gives third-placed Aberdeenshire 2nds the opportunity to close the gap.
But Shire 2nds will find opponents Peterhead in the best of form, having won three of their first four games, giving the Catto Park men the best start to the season in recent times.
Fraserburgh host Huntly, who will be on a high after their rousing 51-19 win last week at home to Inverness Craig Dunain.