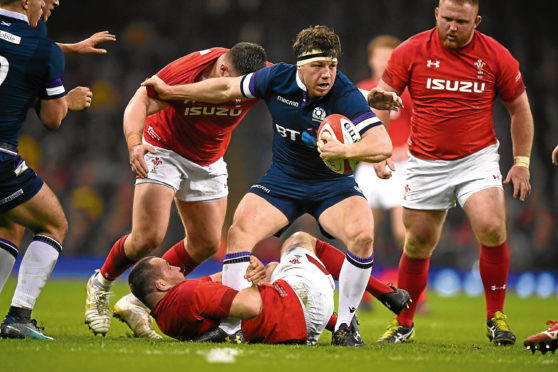 Hamish Watson is confident Scotland won't depart from their ambitious gameplan – but he says they would take five penalties to four if it got a precious Six Nations win against France at Murrayfield on Sunday.
The Edinburgh back-rower was one of the few who did himself any justice in the defeat in Wales, but he stressed he was part of the failure to execute Scotland's attack plan.
But that doesn't mean that the whole plan is ditched.
Watson said: "We've definitely got the right sort of gameplan to take on the best teams in the world but we just executed it poorly in Cardiff.
"We can't make as many errors as we did, especially away from home, with this plan. We made a lot of errors in attack and didn't build phases. But there were too many holes in defence and they cut through us a bit easily, so it was a combination of both.
"The harsh words were said after the game and on Monday and we've moved on from that now so that we're solely focusing on France. We've got to concentrate on these two home games at Murrayfield now. The discussion of what happens away from home we'll get back to."
Watson agreed that Ireland, winning in Paris without a try shows the kind of bottle the Scots need to take on what promises to be a big French side.
"Anyone who can grind out that sort of victory away from home by staying in the game, managing to get a late opportunity to win the game and then taking it, fair play to them," he said.
"You'd take that in this competition. Obviously, we want to score tries and play a good brand of rugby but I think it's also a winning sport, so you've got to take the win any way you get it."
Both teams will feel the pressure, with a second defeat meaning they would be in for a tense tussle at the foot of the table.
He added. "Our fans expect us to win at Murrayfield nowadays, which is great. But we've got a lot of pressure on us now as well, so we need to go into the game, be positive and try to play the same as we've been doing at home for the last year. It's expected to deliver a bit of a backlash after a loss like that. I don't think many people were expecting it.
"The fans are probably quite right to be a bit hacked off after a game like that, but no one's hurting more than the players so we need to put it right as well."