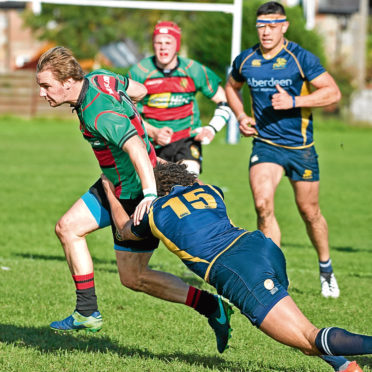 Highland head coach Davie Carson says he will take a victory of any sort in tomorrow's National 3 encounter away to Ardrossan Academicals.
The Inverness outfit will secure the title if they end the season with three try-scoring bonus point victories, with tomorrow's game followed by another away game at Haddington and a home fixture against St Boswells.
Carson says travelling home with a win is his main priority this weekend, however, and he said: "It is no different – every game is the biggest game of the season.
"Last week against Perthshire was the same.
"Some people said we didn't play that well but I don't really care, as long as we got the five points.
"That's something we have talked about, we couldn't really do that last year as we tried to play rugby for 80 minutes and we threw some games away because of it.
"We are simply going out there to win – if we won the game by scoring five penalties and got four points I would take it.
"We have done a lot of calculations and we need 11 points out of 15 to go up."
Carson is wary of an Ardrossan side that sits sixth in the table and inflicted a 31-29 defeat on the Inverness outfit in the first game at the revamped Canal Park in October.
Carson added: "It will be tough there.
"They certainly turned us over at Canal Park in the first game on the new pitch but the guys don't need any more fire to win than knowing they could be champions of National 3.
"They don't have much to play for so hopefully we will get that extra 10%.
"Ardrossan are a very funny team, you just don't know how they are going to go – they have some great results and some shocking results.
"They beat Glasgow Accies at Ardrossan and they beat St Boswells away from home but then they lost away to Dalziel, who are bottom.
"It is all about us, though, not about them.
"We have to concentrate on ourselves."
Carson has a selection dilemma, with Iain Chisholm, Michael Gordon, Callum Carson and Andrew Findlater expected to return from the side that triumphed 47-13 over Perthshire last weekend.
He added: "We are looking really good. We had to replace five guys with non-regulars yet we still managed to win comfortably against Perthshire.
"In the last five or six weeks it has been a nightmare having to tell people they are not involved – it's not a nice part of the job.
"The guys are all really committed to the cause and on Tuesday we had 43 guys at training."