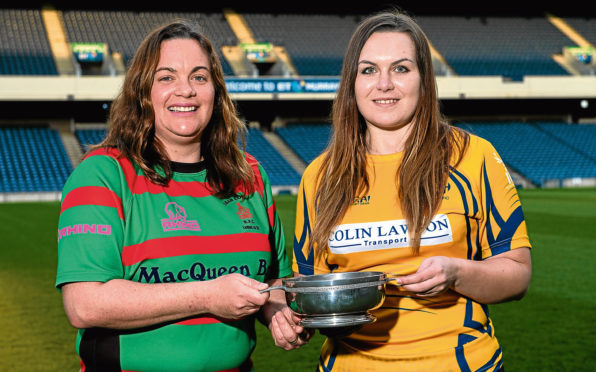 Garioch Ladies head coach Mark Cowie is determined to defend their BT Women's Bowl crown when they face Oban Lorne at Murrayfield tomorrow.
The reigning champions were victorious at the home of Scottish rugby 12 months ago but face stern opposition in Oban, who have a 100% record in National 2 and have conceded just 12 points.
Cowie expects a physical contest and certainly will not be underestimating a team from the league below Garioch, with the two sides due to face each other next year after Connie Louw's opposition sealed promotion.
For the second year in a row, Garioch will play their part in "Silver Saturday", with seven trophies up for grabs. The finals of the BT Cup competitions will precede the 1872 Cup showpiece between Glasgow Warriors and Edinburgh.
National 1 head coach Cowie wants to ensure the silverware is once again making its way back up to Inverurie.
He said: "There's a real buzz around the place and the girls are excited. We can't wait to get out there and try bring the trophy back again.
"The fact they're the league below means absolutely nothing – they're not going to be easy to come up against.
"They're playing a team in the league above and the defending champions, so they have nothing to lose.
"It's been a mixed bag for us in the league this season. There's some girls left over from last year who know what to expect but four of our starting line-up are new to rugby this season. They've been putting in star performances."
Last year they defeated Kirkcaldy 29-20 to claim the title, with Commonwealth Games judoka Kimberley Renicks – a silver- medallist at Glasgow 2014 – scoring twice and securing the player-of-the-match award. She is competing at the European Judo Championships this week.
Garioch defeated Orkney 55-0 in the semi-finals, with Rebecca Bestwick scoring two tries. Club captain Jess Silcocks was also on the scoresheet and Alisha Ross made five of her nine kicks.
Oban's ladies are taking part in their first national final in the club's 15-year history and aiming to cap off a memorable campaign having already clinched the National 2 title.
Having overcome National 1 outfit Howe of Fife 29-5 to reach the final, captain Laura MacCormick is determined to rise to the occasion.
MacCormick said: "We're incredibly excited for the final. We've put a lot of hard work into the season so far and it has shown in our run so far.
"Playing a team in a higher league in the final is obviously going to be a challenge, but I'm sure it's going to be one we'll rise to. The fact we're such a small town means we're a real family as a club – we play really well with each other and we're a really tight-knit unit.
"Our men's team played at Murrayfield five years ago and won, so that's been a real motivation for us.
"It would mean so much to us if we were to win. It would really top off what's been a great season for us."
The Women's Bowl final takes places on the back pitches at Murrayfield at 11am tomorrow.