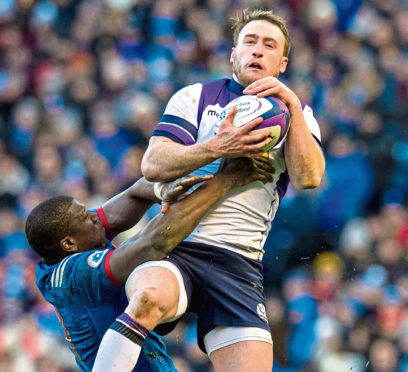 Finlay Calder has backed Scotland to reach the semi-finals of the 2019 Rugby World Cup and expressed his excitement at the side's progress under national coach Gregor Townsend.
Calder, the triumphant captain of the 1989 British and Irish Lions squad in Australia and a pivotal performer in Scotland's 1990 Grand Slam success, is optimistic about his compatriots' chances as they get ready to start a massive season, both in club and international competition.
He said: "The Scots have taken big strides forward in the last couple of years and beating England and France in last season's Six Nations sent out a huge statement.
"We've never had the playing numbers in Scotland but the current squad has plenty of talent, it has strength in depth and genuine belief and Gregor has brought these three things together.
"You can't overstate what the Scots have achieved. It is like Aberdeen beating Chelsea or Manchester United in football when you look at the vastly different resources.
"I am looking forward to the World Cup. Scotland should be setting out their stall to reach the semi-finals and I think it is very achievable. We've got that far in the tournament once before – in 1991 – but there is a real momentum about the boys under Gregor and Glasgow and Edinburgh are full of talented players."
However, the former flanker dismissed the possibility of a third Scottish professional side being created in the north-east.
He added: "We have to be realistic about where the game is. Scottish Rugby attempted to expand the numbers and devise a system where we had four regional teams (Caledonia, Glasgow, Edinburgh and the Borders) but, although rugby is popular across the country, the reality is that Aberdeen and Dundee is football territory.
"Even in these cities, football is struggling to keep up with what's happening elsewhere. I remember what Sir Alex Ferguson achieved at Pittodrie in the 1980s but that has left a huge legacy – or burden, depending on how you look at it.
"I am behind a franchise system because we need to keep hold of our best young players in a domestic setup, but there won't be a third pro team in Scotland."