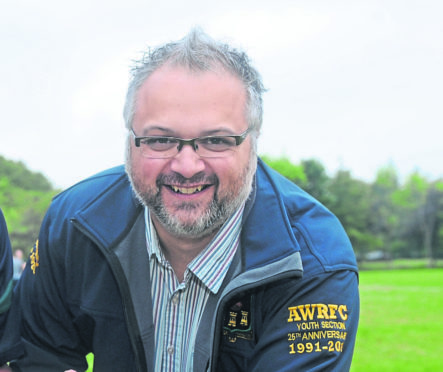 There's a positive mood among the players and officials at Aberdeen Wanderers as they prepare to launch their new campaign.
The Caledonia First Division club has exactly the sort of positive, blowing-away-the-cobwebs mentality to dispel any fears about rugby union's appeal in the north-east.
And, unlike some other presidents who behave as if it's still the 19th century, not the 21st, Wanderers' Guy Mullinor is an engaging keen-as-mustard evangelist for the oval-ball pursuit.
Wanderers, whose most famous player was former Scotland captain Jason White, will travel to take on Hillfoots on Saturday, prior to commencing their league schedule on September 1.
But Mullinor is confident they are on the right track to continue their upward journey in the months ahead. He said: "The mood is great, all the players have been enjoying getting back into the pre-season training and are looking forward to this season's league fixtures.
"With our new head coach, Shaun Liddle, and director of rugby Fraser Burr we have a great vision which we are in the process of rolling out at all age groups.
"For us, rugby is an all-inclusive sport, and regardless of shape, age or gender, there is a place for everyone and we put a strong emphasis on that message.
"We pride ourselves on the fact that anyone can turn up and get involved in as much or as little as they want. As well as on the field, we have a great social side to the club."
Wanderers have shown plenty of signs of progress in recent campaigns, yet there is no sense of anyone standing still.
It's quite the opposite, with the club determined to embrace whatever challenges it faces with a resolutely can-do philosophy.
Mullinor added: "Our goals for this season are to provide as much rugby as possible for everyone who is interested and we are aiming for a top spot in the Caledonia First Division.
"We want to grow the sport in the area and are working with Scottish Rugby in employing a full-time rugby development officer in Aberdeen.
"One of our main challenges is access to suitable training and playing facilities in the city because we are slowly outgrowing our current facilities, so one of our longer term goals is get more playing and training space."
Their officials have placed bags of rugby balls in Hazlehead and Duthie Park for anyone to pick up, have a throw around and either take home or return for someone else to play with.
It seems the sky's the limit for these happy Wanderers.
As Mullinor said: "We are leading the Granite City Rugby initiative as well as being a hub club for the Grampian Girls, so we are really trying to promote the sport and encourage more and more folk to take it up.
"We recently hosted the Glasgow Warriors young Warriors camp at Groats Road and it was great to see international players Huw Jones and Lee Jones come along and meet the young players.
"We love the game and we want to see it thrive."