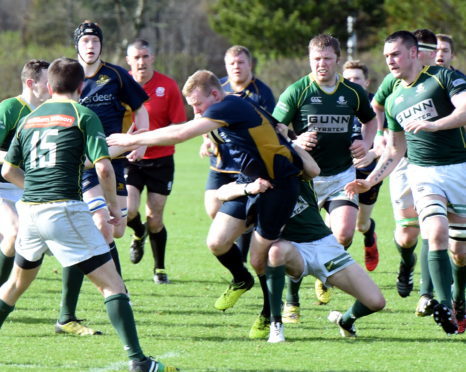 Gordonians head coach Ryan Morrice will postpone any promotion talk until 2019 as the unbeaten league-leaders look to push clear at the top of National 3.
The Countesswells side have won seven and drawn one of their eight games so far and put their record to the test against Caithness tomorrow.
Getting carried away is not in Morrice's armory and he will ensure his players are on the same page.
He said: "We won't look at anything like that until towards the end of the season. We have a lot of travelling to do – Newton Stewart, Ardrossan and West of Scotland – and although we're in a good position, we have to bare that in mind."
Tomorrow will see Gordonians renew rivalries with Caithness, with the two sides last facing each other in Caledonia One during the 2016-17 campaign when Gordonians went up.
Morrice added: "They had a bit of a rocky start but have found their feet now and will be no push-overs. The games between us have always been tough and close.
"It's good for north rugby to have more representatives in the national leagues. There is ourselves, Grammar in National One, Highland going well, Caithness and Orkney, with the possibility of another next year as Strathmore are going well."
Caithness can travel this weekend with renewed optimism after a crushing 57-14 home win over Hillhead Jordanhill last weekend.
Head coach Tom McGee said: "Yes, it's going to be a tough assignment for us going to Gordonians but it's going to be equally tough for them, as we've been continually improving in this division,
"Our performance against Hillhead Jordanhill last Saturday was the best the team has produced in the last three years. It was very clinical, the energy was good and the aggression levels were fantastic.
"I think we're really getting to grips with what is required week-to-week at this level, so we're certainly looking forward to taking that down to Gordonians this weekend.
"Confidence has been building in the camp, we've known since the first two or three games that we needed to tidy up our game and become a little bit more ruthless and controlled. We've started these last three or four games with that bond together and confidence build off the back of playing well and winning."
McGee admitted that his side need to take their A-game into the Gordonians tussle, and added: "We certainly need to be at or near our best this weekend but at the same time, although we respect Gordonians, as they're at the top of the table and we know them well, they'll be coming up against a different Caithness side, compared to what they're used to.
"We're now very much more clinical and controlled in the way that we play."