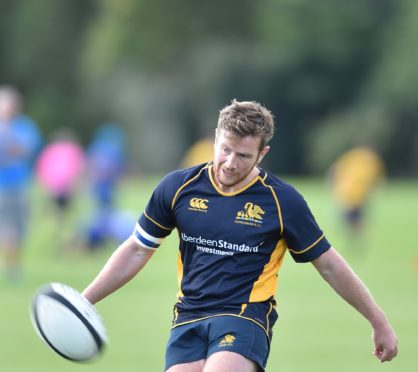 Gordonians back Graeme Crawford is looking for his his side to continue being road warriors as they face the 360-mile round trip to Ardrossan tomorrow.
The Countesswells side remain unbeaten in National 3 this season and have won at Murrayfield Wanderers and Hillhead Jordanhill, as well as picking up a useful draw away to Carrick.
They take on fourth-placed Accies on Saturday in what will be a serious test of their table-topping credentials, with a two-point cushion over their nearest contenders at the top Newton Stewart.
Crawford and the Gordonians squad are used to the rigours of travelling that come with being a team in the north of Scotland and the winger is confident they can embrace them again tomorrow.
He said: "It means a lot more when you travel away from home and come away with a win. Everyone targets their home games but when you win away, it makes such a difference to the journey back.
"I've not found the travelling too bad myself but it does take its toll every second week. Our nearest away game is Perthshire, which is still a couple of hours on the bus. The rest of the time we're travelling to the south-west, to the Borders or up to Orkney and Caithness.
"It's definitely harder for the central belt teams, who are used to playing in a radius of 50 miles. They don't really have many long journeys. Ardrossan have had some good results of late and we had two good games against them last season."
The start to the season has surpassed expectations and head coach Ryan Morrice is intent on keeping feet on the ground for as long as possible. It is Gordonians' second season in National 3, following their promotion from the Caledonia leagues, and they come towards the mid-way point of the season in impressive form.
Crawford added: "Coming into the season we were trying to take every game as it comes and play it as if it was the first game of the season. We're a bit shocked to be where we are just now but the boys deserve it. It's still so early and so many things can happen. When the weather starts to change, so will the results. We're just trying to move forward each week."