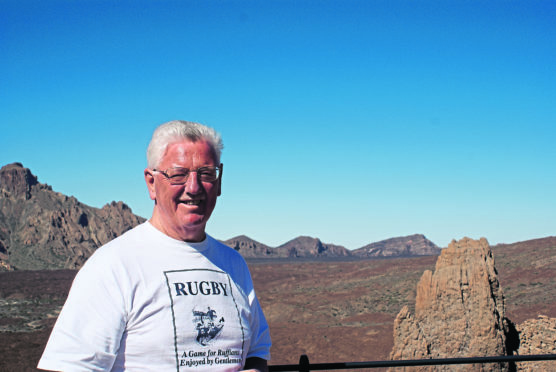 The head of the north-east rugby referees organisation has sent a letter to clubs in the region, voicing concern at increasing abuse of whistlers from a "wide cross-section" of people on and off the pitch.
The letter by Ray Mellis, president of Aberdeen and District Rugby Referees Society (ADRRS), follows instances of "unacceptable and abusive behaviour" directed at officials.
It states the problem has grown so bad at some clubs that referees, who are not compelled to accept match appointments, have "informed the society there are certain clubs they do not wish to be appointed to in the future".
Mellis told the Press and Journal he was concerned about the rise of abusive incidents at youth level, and in many cases "parents were the guilty parties".
He stressed the offenders were in a minority, but said rugby administrators must get to grips with the problem.
He said: "There have been several instances in recent weeks of unacceptable and abusive behaviour directed towards referees.
"Those responsible comprise a wide cross-section, including players, coaches, club officials and supporters.
"In these cases where individuals have been identified the matter has been referred to the appropriate disciplinary authorities."
---
>> Keep up to date with the latest news with The P&J newsletter
---
His words were backed by Kevin Wyness, ex coach of Aberdeen Grammar FP, who now works with the Caledonia Region.
He said: "I've been critical of officials in the past but one thing is for sure: without referees there is no game, and everybody in rugby has to appreciate that fact.
"Ray Mellis is a great ambassador for rugby, but I witnessed a recent under-18 match where he himself was abused.
"The game all over Scotland is struggling to attract players and coaches, let alone referees. Clubs need to remind themselves on the code of conduct and ensure a healthier culture in the sport."
Aberdeen Grammar honorary president Jim Rae said: "It is somewhat regrettable that it has been necessary to issue and circulate this letter among our local rugby clubs.
"As the National 1 League representatives for the North, Aberdeen Grammar Rugby wholly supports the spirit of this communication and fully endorses the sentiments therein and subscribes to the code of conduct to which it refers.
"In our match programmes for home games, for example, this is explicitly highlighted in my notes.
"That said, there must continue to be a place for humour, boisterous vocal support and occasional raised voices. These have always been part of the rugby experience.
"However, there is a distinct difference between this enthusiastic involvement in the game and any form of pernicious challenge or personal abuse of match officials.
"The latter is a clear erosion of the ethos of our sport."
Mellis has urged all clubs in the region to weed out those who bring the game into disrepute.
He added: "It would be unfortunate if this was to escalate with the inevitable impact it would have.
"Referees are a pretty thick-skinned group, but from time to time, the abuse outweighs the reward and they decide to retire. They are volunteers who are integral to the game."