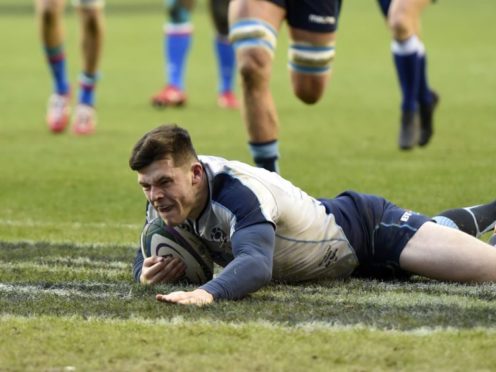 Scotland haven't exactly surged out of the blocks in recent Six Nations Championship campaigns.
And Saturday's meeting with Italy at Murrayfield was inevitably going to suffer in comparison with the fantastic recovery orchestrated by the Welsh to defeat France on a freaky Friday night in Paris.
Yet there was still sufficient verve, vigour and va-va-voom from Gregor Townsend's side while putting their hapless opponents to the sword 33-20 to suggest this will be an auspicious tournament for the Scots.
Even a late rally from the visitors, who scored three tries through Guglielmo Palazzani, Edoardo Padovani and Angelo Esposito – while Simon Berghan was in the sin bin – couldn't really take the gloss off the first 70 minutes. It gave the scoreline a peculiar look, but that didn't reflect the whole story.
Kinghorn hat-trick helps Scotland seal bonus point win over Italy
Right from the outset, it was obvious Townsend had encouraged his team to perform in his mould: being bold, inventive, off the cuff and playing at a blistering pace which might have delighted Allan Wells in his pomp.
All these qualities were on show at various stages and there was nothing Conor O'Shea's men – who have now lost 18 consecutive losses in the competition since 2015 – could do to stem the tide until it was too late.
Blair Kinghorn was the main beneficiary with two tries in the first half an hour, but although he finished them off with aplomb, they sprung from terrific work by the likes of Finn Russell, Stuart Hogg and the debutant Sam Johnson, who was a constant thorn in Italy's flesh.
Given the injury concerns which had plagued Townsend in the build-up to the Six Nations, this contest was a reminder that they now possess some serious strength in depth. It added up to a potent combination which was too potent for the visitors.
Granted, Scotland were occasionally guilty of extravagance and over-elaboration – another Townsend trait – but when they go through the gears, they are far closer to a Ferrari than a clapped-out old Trabant.
One's heart went out to Italy's Sergio Parisse, a genuine legend in the sport, who was playing a record-breaking 66th match in the championship, and whose individual brilliance has rarely been equalled by his compatriots in the last decade.
But even the towering forward was left clutching at shadows on several occasions and his heroics masked an often one-dimensional, damage limitation exercise from his side.
They had no answer to the innovation and precision of their rivals, particularly the metronomic kicking from Russell, who has clearly benefited from moving to France.
Time and time again, his dexterity and pin-point accuracy sparked mayhem. If his cross-kick was the catalyst for Kinghorn's opening score, he was similarly efficacious in allowing Hogg to stretch the lead in the second half.
It's a big statement, but I honestly believe Russell has traces of John Rutherford in his make-up. Which, considering that "Rudd" remains Scotland's greatest-ever stand-off, is a true testament to his powers.
It may seem there are some caveats in analysing this tussle. After all, it was "only" Italy and they are odds-on favourites to collect another unwanted wooden spoon.
But the mesmerising fashion in which Kinghorn claimed his hat-trick – and a try bonus point – with another marauding attack summed up the domination which the hosts enjoyed. You can only beat the opposition placed in front of you and the Scots did this in wonderful style with a further try from Chris Harris.
The Irish are next up for the SRU's finest in Edinburgh next weekend and that will be a completely different challenge from this routine opener.
The reigning champions, who triumphed in all their autumn internationals and beat New Zealand and Australia, are a formidable force and Scotland will need to cut out some of the fancy-dan stuff and basic errors – and keep 15 men on the pitch for 80 minutes – to have any hopes of maintaining their run.
Yet there's a confidence developing, a sense of something vibrant in the air, and an ability to create trouble from everywhere on the pitch which bodes well for the future.