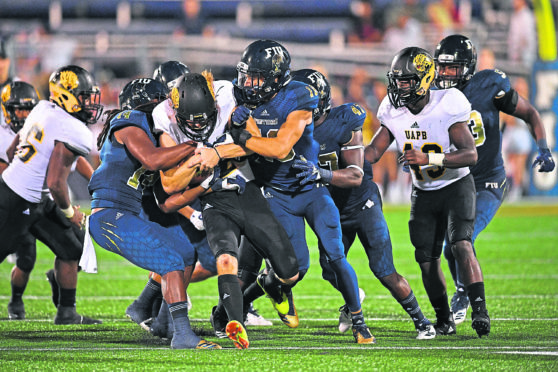 With a nickname like The Scottish Hammer Jamie Gillan is understandably keen to land a few blows.
His story is one of relocating, rugby's transferable skills and a relentless dedication that has put him on the doorstep of the NFL as he makes his mark with the Golden Lions – the grid iron team representing Arkansas University.
Gillan has had to make a home in different places. His father, Colin, is in the Royal Air Force and the family has lived in Lincolnshire, Edinburgh, Forres and Kinloss.
But it was a four-year stint in Inverness, during which Gillan worked with Highland RFC's youths, that propelled him on the road towards a career in American football.
Gillan, 22, left Inverness at the age of 14 to play rugby at Merchiston Castle in Edinburgh. He moved to the United States in 2013 after his father was stationed at Patuxent River, a naval air base in Maryland.
The NFL draft is on April 29 and, after four years with the Lions in which Gillan fulfilled roles as kicker, punter and kick-off specialist, what was once a pipedream could now become a reality.
He said: "I've not been home for three and a half years and it sucks, but my family and friends know I'm so busy. Holiday time is spent working and making money.
"Though it's hard right now, if I do make it through a rookie season hopefully I can visit my family. At first people were asking me when I was coming home but when I explained it to them, it opened their eyes. It's not just training one day a week then playing a game. You've got training morning and night, meetings, school, church on Sunday with the team. It's a seven-day thing.
"I don't think I'm big enough to say I represent Scotland but if I was to play at the next level it would be cool to say I could represent rugby players."
The Scottish Hammer moniker was given to him by Brian Woodburn, his high-school coach at Leonardtown in Maryland, who remains a close ally. His opportunity in the sport came by chance. With the school in need of help, Gillan, who was playing football at the time, had Woodburn come watch him kick.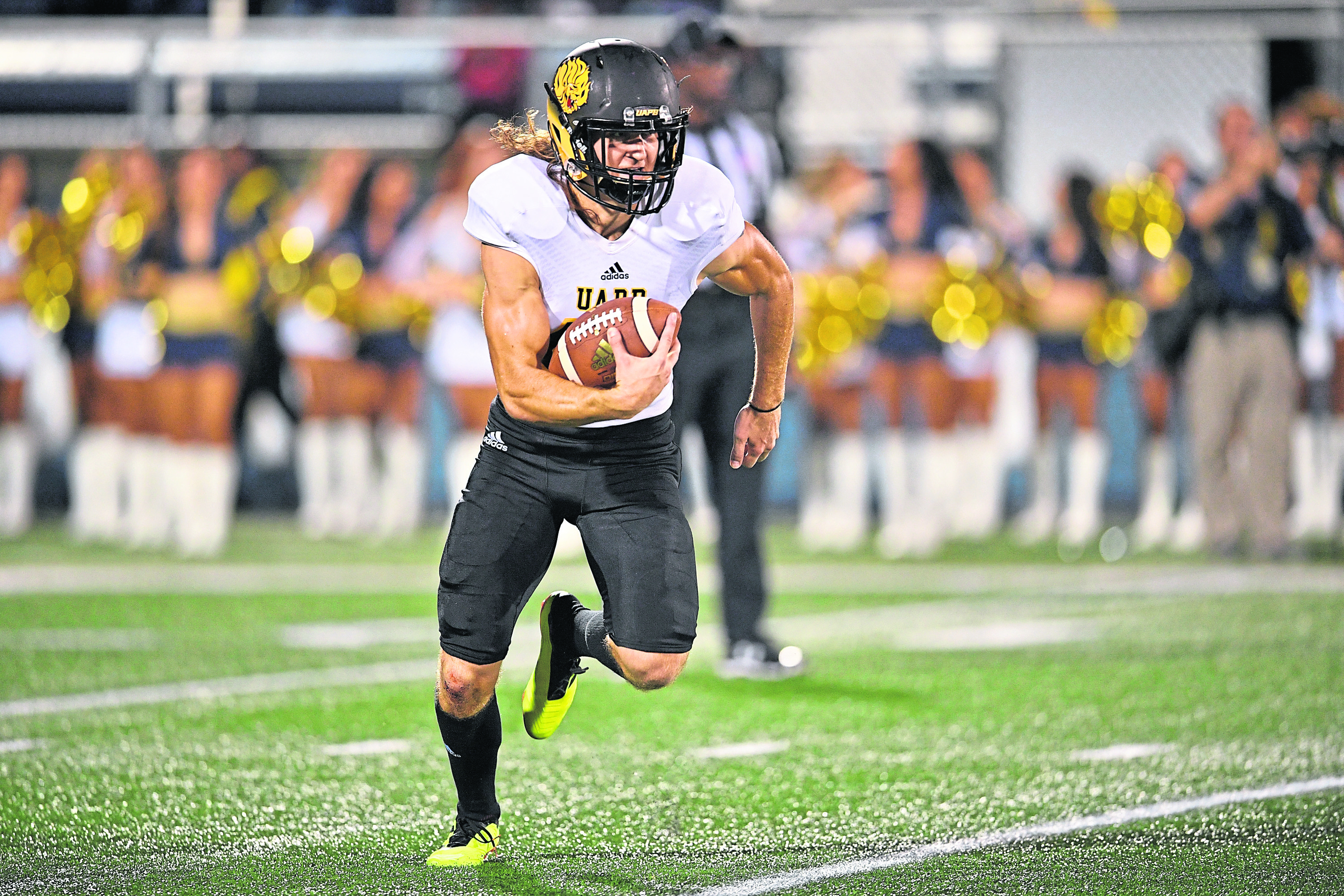 Several colleges were interested in his services but it was seeing a post on Facebook about UAPB needing a kicker that changed his trajectory. He sent in a copy of his highlight tape and a full scholarship was offered.
His senior season in 2018 saw him nail 20 of 28 field goals and clock an average of 42.7 yards per punt, breaking multiple school records in the process.
Punter is the position he feels most comfortable with and is the one that if all goes to plan, he will fulfil in the NFL.
However, the modern deployment of the role is far more nuanced than catch-and-kick. Punters are not simply judged on how far they can kick the ball. Hang-time, placement and athleticism are vital tools in the arsenal.
This is where Gillan thinks the rugby background will come in handy.
He said: "There's not a whole lot of punters who are athletic. Special teams coaches perhaps don't care how athletic you are but I want to show them I can do these agility and strength drills from my rugby background.
"NFL teams have lots of people on the roster that are brought in for their positions. My gameplan is to show them what I can do, that I can run fakes if required."
He cites former Indianapolis Colts punter Pat McAfee and current Los Angeles Rams pro Johnny Hekker as inspirations, as well as 2003 Rugby World Cup winner Jonny Wilkinson, whose kicking style Gillan mimics.
The last month has seen interest in his story spike, thanks to a mention on NFL Network – the league's dedicated TV channel – by reporter Tom Pelissero after he burst four footballs while punting.
He has been invited on to the show and his accomplishments at the NCAA Division I school have had fresh light shone on them.
He added: "It's definitely helped in getting my name out there. I've got a really unique story and especially coming from as someone as high up as Tom. I think it's had about 40,000 views. Getting on TV and interviewing with NFL UK has been great for guys to see me.
"I've punted, taken kick-offs and kicked field goals for the last three years. I've done it in game situations, which makes me more valuable."
With the draft, where all 32 NFL teams pick the best college prospects over seven rounds, around the corner, Gillan will not take his chance for granted. However, after four years in Arkansas, it may well be time for another new home.
"I've been getting quite a lot of attention from teams calling me and my agent. But I've worked really hard for it and hope that's the case. I've still got to stay humble and focused. People talk about doing it (getting to the NFL) and it doesn't quite happen. Hopefully, someone gives me a chance and if they do, I don't think they'll be disappointed. I'll give them 100% every day and I don't think they can ask more than that."