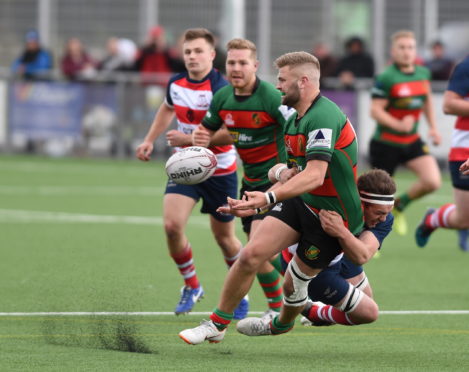 Highland flanker Callum Carson is driven by fond memories of their last victory over Aberdeen Grammar as he targets another shock triumph in tomorrow's National League Cup final.
Grammar were defeated 34-27 when the sides met at Inverness High School in the opening round of the competition last season, shortly prior to Highland's move to the revamped Canal Park.
Highland have already clinched promotion to National 1, where Grammar finished fourth this season to move up to the newly constructed Premiership, and Carson is eager to send out another statement with a victory at Bridgehaugh Park in Stirling.
Carson said: "We beat them two years ago so I'm sure they will be wanting to get their own back on Saturday.
"I have good memories of the last game, it was a good, physical game. We played really well on the day and just got the better of them.
"I'd imagine that will have stuck with them, if they had beaten us we certainly wouldn't have forgotten about it.
"It's a great opportunity to get one up on our local rivals in the north, and see how we are going to go next year.
"It would have been nice to have a crack at them in the league next season, but at least we are getting to play them on Saturday.
"There has been some banter going back and forth this season so it will be good to settle that."
Highland have defeated National 1 sides Cartha Queen's Park and Musselburgh on their way to the final, along with National 2 rivals Preston Lodge, with Carson already casting an eye ahead to playing in the second-tier next term.
Carson, who is the son of Highland head coach Davie Carson, added: "The target at the start of the season was promotion, but everybody is really excited for the cup final.
"It's a big opportunity to show ourselves against a team above us. It will give us a wee challenge to see what next year is going to be like.
"We have beaten two teams in that league already, so we are absolutely confident we have the ability to win on Saturday.
"I think we are going to have around 100 supporters, so the club will really enjoy the day out and hopefully we can do the job."