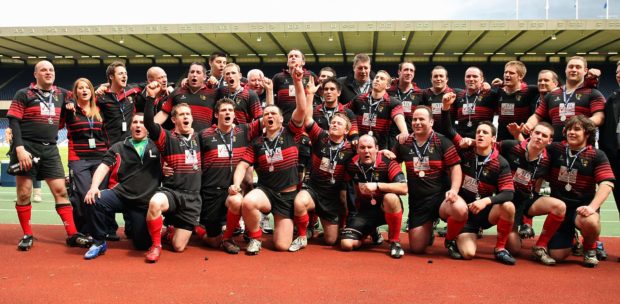 A decade on, Aberdeenshire have their shot at Murrayfield redemption.
It is their first trip to the national stadium in 10 years, following a 15-0 defeat to Edinburgh University in the final of the same competition. Students once again form the opposition tomorrow, in the form of Dundee University Medics, a team who finished mid-table in Caledonia 2 Midlands.
The resurgence in Shire's fortunes has seen them crowned league champions in Caledonia 3 North and claim the Caledonia Regional Bowl. A remarkable treble could be completed at the home of Scottish Rugby tomorrow lunchtime, two years on from the club dropping out of the national leagues.
Finals such as these always bring about tales of personal sacrifice and significance. Gavin Cunningham has changed his flights to come back from America – at his own expense – for the game, while Jason Burton has amended his shifts to ensure he is back on-shore for Silver Saturday.
There is also the quartet of Steven Cook, Michael MacLugash, Malcolm White and Barry Davies, who were part of that last visit to Murrayfield and would love to make history.
Head coach Barny Henderson, a man intent on continuing Shire's rejuvenation, said: "The guys have improved a lot throughout the season and this would be the icing on the cake. This season has certainly surpassed my expectations but the players have shown a lot of commitment to the club.
"Steven, Malcolm and Michael were all part of the team last time and Barry just missed out. For Gavin and Jason to change their flights shows everyone wants to be part of it.
"We've got two supporters' buses going down on Saturday morning and it should be a great day. We are going there to win."
Shire defeated Kinloss Eagles 39-36 in extra-time to win the Caledonia Regional Bowl in February, which earned them a place in the National Bowl semi-finals. They won their last-four contest in Inverleith against Edinburgh Northern with a last-gasp try to win 14-10.
A player shortage forced them to drop down the divisions and rebuild in the Caledonia leagues, with another step up coming next season when they move up to Caledonia 2.
Henderson added: "We're not putting restrictions on anything. We're 100 per cent amateur and we'll keep it that way. We're not going to try surpass what we're capable of sustaining; where that takes us, we'll have to see.
"What we have done this season certainly helps. A few people in the squad have come back to the club because of the buzz about the place and the fun factor. We've got a second 15 registered for next season that will increase competition for places.
"The youth side of things is then the next big thing we need to re-establish. There's a few guys in the squad that came through Shire's youth section that hasn't been in place in a while."
Aberdeenshire take on Dundee University Medics at Murrayfield at 11am, before the National Shield, Scottish Cup and Sarah Beaney Cup finals.