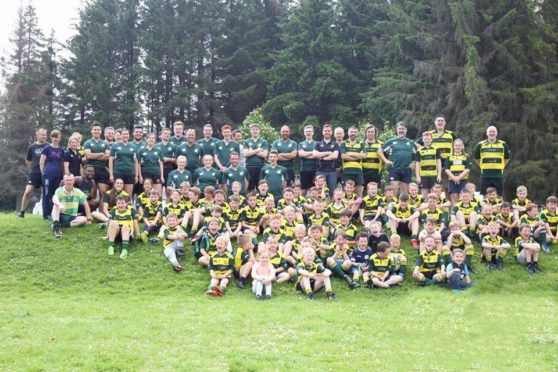 Huntly RFC has received more than £30,000 from Scottish Rugby as part of an initiative to help domestic clubs improve their facilities and develop the grassroots game.
The investment was yesterday described as a major boost by the north-east club's officials, who plan to use the cash to install new lighting.
Helen Cameron, the fixture secretary at Huntly, said: "The sustainability award will make such a difference to us.
"We do not have a permanent pitch of our own at the moment which does create quite a few issues, especially during the winter months when daylight is limited.
"The pitch we are using has minimal lighting which means that only a small portion of it can be used during the winter.
"The new lights we are planning will enable us to use the pitch to its potential and protect the grass as we will not be constantly training on the same section.
"It will also allow for more varied training with a larger area being accessible to the club."
Director of rugby development at Murrayfield, Sheila Begbie MBE, said: "We are delighted to continue the support for clubs to enhance their facilities further, enabling them to deliver a higher quality of rugby across Scotland.
"We have been able to support 47 clubs during this funding cycle, ranging from Kelso in the south-east to Stornoway in the north-west."
An investment of £50,000 in Montrose and District Rugby Club will be used as part of a £500,000 project for an ambitious new facility featuring a cafe.
Duncan Campbell, the Montrose president, said: "We are so excited to get this award from Scottish Rugby and this is a great foundation for our new clubhouse.
"Our current facilities are not fit for purpose and we need something new, so this is going to give us the opportunity to develop something that will drive forward rugby development in the town."
The news about the club's funding was welcomed by Kevin Wyness, one of the leading coaches in the north east.
He said: "It's great to see Huntly getting recognition after all these years. They are still producing young Caledonia age grade players and they also have an active women's section.
"They are an organisation who are actively helping grassroots rugby in the north."