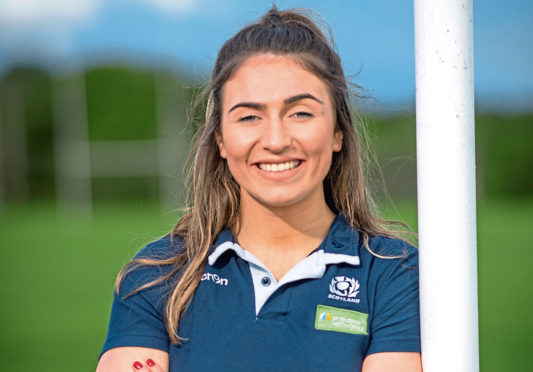 Ellon's Emma Wassell got into the game of rugby by chance but now hopes to help Scotland qualify for the next Women's World Cup.
The 24-year-old, who has won 36 consecutive caps for Scotland, was encouraged to try the sport as a 15-year-old at Ellon Academy by Ellon rugby coach Mike Avis.
Wassell said: "Mike suggested I might like to play rugby for the women's team he was setting up so I went along to the Meadows for what I thought would be a bit of a laugh, but once I got into the training paddock I just knew this was the game for me.
"I was right into the zone."
Wassell made a rapid ascent in the sport, progressing through Scotland women's under-18 pathway scheme.
She was a member of the Scotland under-19 team in 2013 and also played for the under-20s against Finland in the same season, while playing for Edinburgh side Murrayfield Wanderers.
She gained her first full cap in 2014 against Ireland in the opening game of the Six Nations and she has since played in every subsequent game for her country, including at Rubislaw against England in 2014 when, by her own admission, Scotland were outclassed in a 63-0 defeat.
She said: "They are still the team to beat in world rugby.
"There is still a big gap between us and them, especially now that they have turned professional, but it's likely Scotland will follow suit."
Having finished her accountancy and finance degree at Heriot-Watt University, Wassell is working as a trainee auditor in Aberdeen but admits being part of a Scotland team at the 2021 World Cup in New Zealand is a long-term aspiration.
The second rower added: "In the meantime I shall continue to train at Hillhead Sports Centre in Aberdeen, but will have to start thinking about who and where I play for, going into a big year for Scotland in which we have a tour of South Africa in October.
"I intend to be on that plane and part of our World Cup preparation.
"Having played 36 games at lock for Scotland, I fancy a crack at playing in the back row where I might be able to build on my try total of two, although it will be up to Phil Doyle, our new head coach who has taken over from Shade Munro, who played a big part in my development.
"Much of my inspiration comes from my father David who sadly passed away in 2004.
"He played the game but never saw me play. I like to think he would have been proud of what I have achieved, and hopefully with more to come in the years ahead.''
Wassell hopes more young girls and women can be encouraged to take up the sport, adding: "Just go for it. It's a great sport, giving you self-confidence, and a chance to meet interesting people along the way."