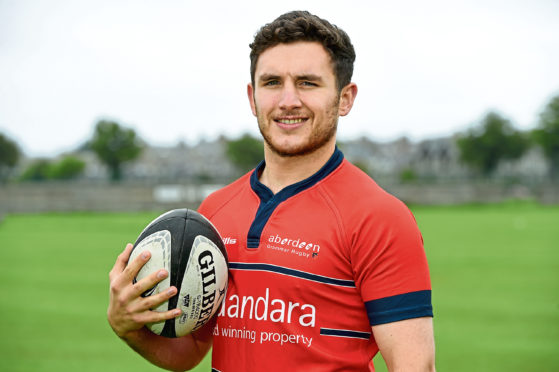 Aberdeen Grammar back Doug Russell insists his club is ready for an early season acid test at Currie Chieftains tomorrow.
The only game in the Premiership is a rescheduled one and the stakes are high for Ali O'Connor's side as victory will take them up to second in the table.
Russell, pictured right, said: "It's a game we're looking forward to.
"Second against third has a nice ring to it and it will be a good early measuring stick of where we're at as a club in this division.
"Currie are a young team and from what I know they have a decent backline.
"They have been a Premiership team for a number of years and are always close to the top of the table so we know this is going to be a huge challenge for us.
"But it's certainly one we are looking forward to. They've had one loss, against Marr, which tells you how strong they are but this is a chance to go second in the table and that's a huge motivation for us."
Grammar will make the trip to Malleny Park without Greig Ryan, Tom Aplin and Murray Mitchell but Russell insists his side can cope.
He said: "It's unfortunate that due to the game being a rescheduled one we are without some guys but it is an opportunity for younger players such as Gregor Nicol – who will play at 12 – to show what they can do."
Grammar have adapted well to the Premiership, winning five of their opening six matches.
Glasgow Hawks are the only side to inflict defeat on Grammar in the league and Russell insists the strong start is just reward for the hard work behind the scenes at Rubislaw.
He said: "I'm really chuffed with how it's gone so far in the Premiership.
"The boys are working really hard and we've really improved as a team from last season.
"There have been some great performances such as Selkirk away and GHK at home. We conceded a lot of points against GHK but we played some really good passing rugby in that game.
"The team has matured this season. In our first game against Accies it was clear it was a faster pace of rugby but we have adapted well, largely due to having more depth in the squad and improved training."