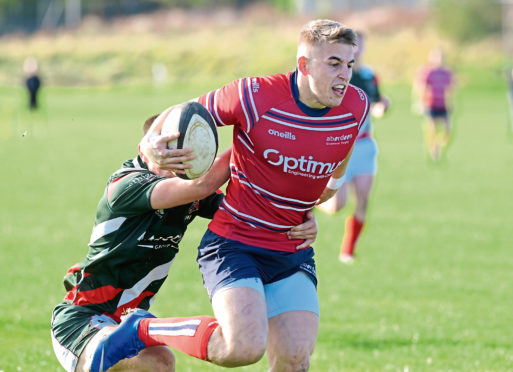 Aberdeen Grammar centre Murray Mitchell wants his the side to restore the fear factor at Rubislaw.
Grammar have lost their last two games on home soil, against Glasgow Hawks and Hawick, while they shipped 47 points in a winning effort against GHA in October.
They still find themselves third in the Premiership table, but are closely surrounded – including by tomorrow's visitors Selkirk, who are also chasing a play-off place.
Mitchell said: "It would be good – that's something we want to get back, the fortress at Rubislaw. We want to make it a tough place to come. The last few games have taken that edge away.
"We want to send a message to the league that we're aiming for the play-off spots. We're only going to do that by winning the close games.
"Selkirk are a typical Borders team, in that they're big up front and have a good off-loading game. If you fall asleep early against them, you could easily find yourself three or four tries down.
"It's difficult to pinpoint why we start games slow; we're all feeling good in the warm-ups but if we look at the review of the game, it's something we noticed ourselves. Getting through 80 minutes with a good performance is difficult – professional teams struggle with that."
After a run of heavy defeats in November against Marr, Hawick and Currie, Mitchell reckons it will take a couple of big wins to get the confidence of Grammar's young side up again.
He added: "It's very difficult. We're quite a young team and have young boys who feed off confidence. It's about recognising what boys might need an arm round the shoulder.
"Once we get a couple of wins, we'll be back up to where we want to be.
"We've picked up injuries to key players and going into that run of games – Hawick, Marr, Jed – it deflated the atmosphere and confidence.
"It's about confidence and getting back to good performances."